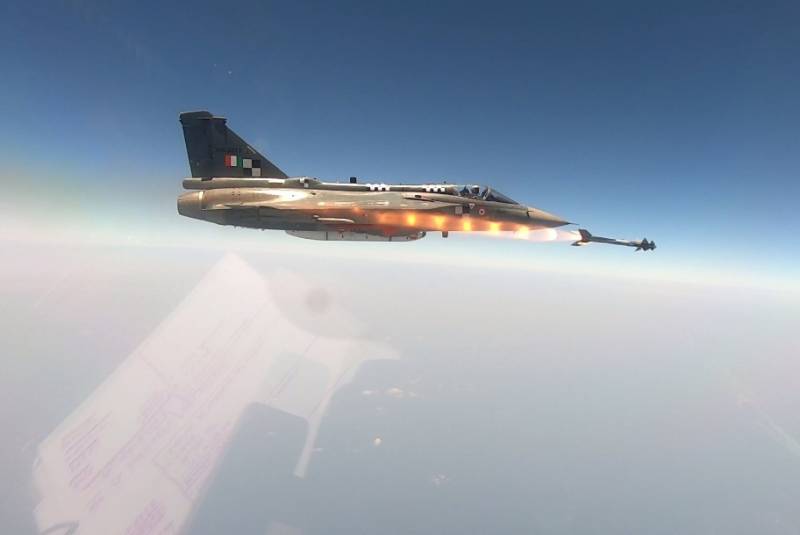 Defense Research and Development Organization (DRDO, India) integrates LCA Tejas fighters with Israeli Python-5 air-to-air missiles. Now one more type of ammunition will be added to the arsenal of this Indian light fighter.
This was reported by the press service of DRDO on its Twitter page.
During yesterday's tests, an Israeli missile was successfully fired from an Indian fighter jet. In addition, during the shooting, the advanced capabilities of the already integrated
aviation
the I-Derby ER missile, also produced in Israel.
As noted by the Indian edition of the EurAsian Times, the developers have been tasked with ensuring the versatility of the Tejas weapons, including Russian, Israeli, European and Indian ammunition. The Indian Air Force, armed with a wide variety of aircraft, suffers from a shortage of specific weapons for specific fighters. For example, the Jaguar, Mirage-2000 and Rafale aircraft cannot be equipped with Russian missiles, which are used by the Su-30MKI, MiG-29 and MiG-21. Therefore, Tejas are trying to make them "omnivorous".
The Python-5 is an Israeli fifth-generation air-to-air missile developed by Rafael. It is in service with more than a dozen countries, and is also used in the Spyder-SR anti-aircraft missile system.