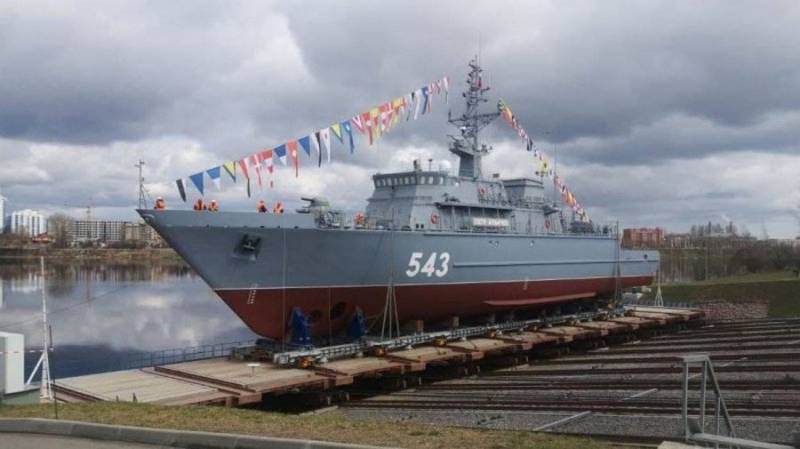 Another mine defense ship (minesweeper) "Pyotr Ilyichev" of project 12700 "Alexandrite" was launched. The ceremony took place at the Sredne-Nevsky shipyard, the press service of the enterprise reports.
The Pyotr Ilyichev is the sixth Project 12700 Alexandrite minesweeper, laid down at the Sredne-Nevsky Shipyard in July 2018. The transfer of the ship to the customer is scheduled for the summer of 2021, the ship will become part of the Pacific
fleet
.
The Commander-in-Chief of the Navy Nikolai Evmenov, who was present at the ceremony, said that this project had shown itself well and the construction of minesweepers would continue. So let's hope that the series of Project 12700 PMO ships will not be limited to 10 minesweepers as previously planned.
The sixth "Alexandrite" was named "Pyotr Ilyichev" in honor of the Hero of the Soviet Union, the Pacific Fleet sailor Pyotr Ivanovich Ilyichev, who closed the embrasure of the Japanese bunker on August 18, 1945 during the Kuril operation in the battles for the Shumshu island.
Minesweepers of the 12700 project are able to use the latest hydroacoustic stations located both on the ship itself and on remote-controlled and autonomous underwater vehicles, and they have an automated mine action control system. Able to use traditional and traditional weapons. The ships of the Alexandrite series have a unique hull made of monolithic fiberglass, formed by vacuum infusion.
The 12700 project was developed by the Almaz Central Marine Design Bureau for the Russian Navy. These mine defense ships have a displacement of about 890 tons, the length is 62 meters and the width of 10 meters, the crew has 44 man.