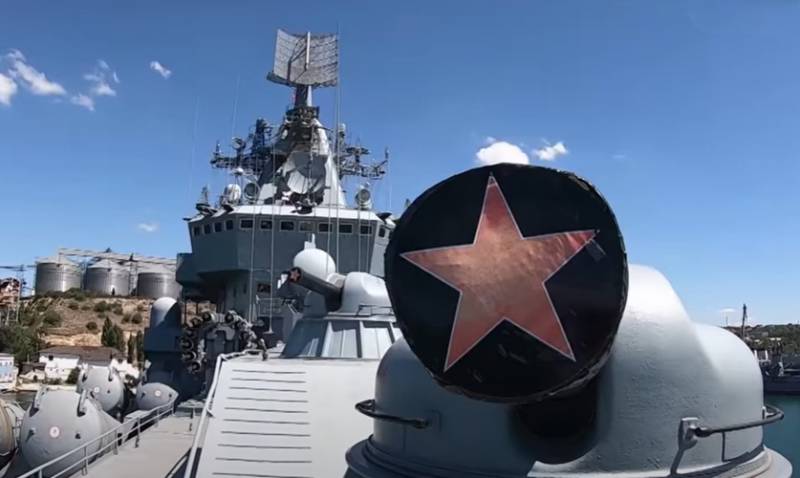 Press service of the Black Sea
fleet
The Russian Navy has confirmed that the flagship has entered the Black Sea. GRKR "Moscow" will carry out practical shooting in the water area closed for navigation.
This message is particularly noteworthy in connection with the decision of the United States to send a patrol ship to the Black Sea.
The headquarters of the Black Sea Fleet brings to the attention of the information that the crew of the guards missile cruiser will conduct both practical firing and joint maneuvers with other warships of the Russian Navy.
From the message of the press service of the Russian Black Sea Fleet:
The crew of the missile cruiser "Moskva" will work out the algorithm of actions for the use of the main missile system of the battleship, carry out anti-aircraft and artillery fire. One of the goals will be to imitate a simulated enemy surface ship.
Earlier it became known that the US command sent the Hamilton patrol ship to the Black Sea, which "de jure" belongs to the Coast Guard. According to some reports, it is already passing through the straits of Turkey. This is despite the fact that the United States had canceled the dispatch of the destroyers Roosevelt and Donald Cook to the Black Sea a few days earlier.
It should be recalled that the Moscow missile launcher carries the P-1000 Vulcan anti-ship missile system. Warheads of missiles can be both high-explosive cumulative and nuclear. The maximum firing range provided is up to 1 km. This range provides the ability to defeat enemy ships, for example, even at their exit from the Bosphorus ...
The cruiser Moskva was commissioned in 1982. The US ship Hamilton has been in service since the mid-1960s.
In 2020, a large-scale repair of the Russian cruiser was completed. It is planned that the ship will go through a thorough modernization - with rearmament for the latest missile systems.
The American patrol ship is armed with an OTO Melara Mark cannon, several 20 and 25 mm mounts, and 6 machine guns. It can carry a helicopter on board.