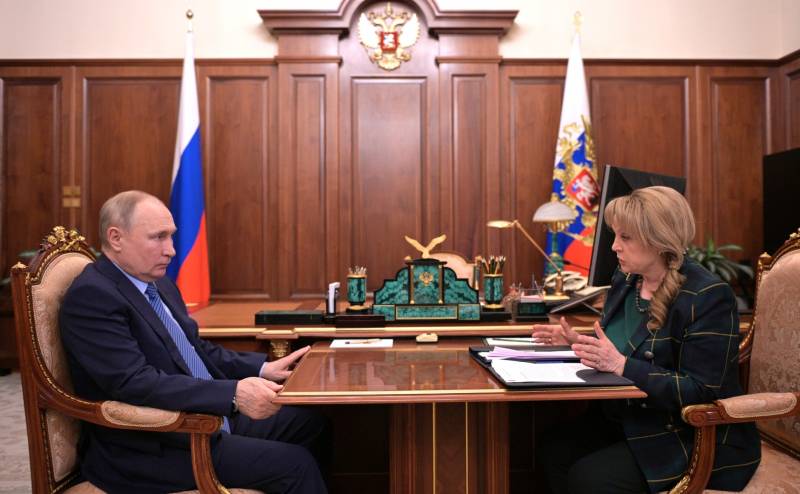 The statement of the head of the Central Election Commission of Russia Ella Pamfilova, made during a meeting with President Vladimir Putin, is being actively discussed. Pamfilova's statement is related to the electoral system in the Russian Federation.
In response to Putin's words that there is a big election campaign ahead in Russia, the head of the Central Election Commission of the Russian Federation stated literally the following:
Yes. And it is very important - the most important result of these five years is that the confidence of our citizens both in the elections themselves and in the electoral system has significantly increased.
According to what specific data Ella Pamfilova concludes that the confidence of Russians in the elections and the electoral system has not only increased, but also increased significantly, she did not elaborate.
At the same time, the chairman of the CEC called the all-Russian vote on amendments to the Constitution a test for the current composition of the commission.
Ella Pamfilova also stated that among the opponents there were intentions to discredit the Russian vote, first of all, on the mentioned changes to the Basic Law of the country.
The head of the CEC to President Putin:
We worked in a rather difficult environment up to the point that throughout Russia we tried to put pressure on the members of the commissions so that they leave the composition of the commissions, so that they do not appear on voting days, do not work, that is, we tried to generally destabilize the work of the commissions. But again, the system is strong, it withstood it.
According to Pamfilova, members of the commission for all those wishing to vote went to their place of residence - "up to the taiga and tundra - on horses and helicopters, whatever you like."
Let us remind you that elections to the State Duma will take place in Russia this year. When asked by Putin about whether Pamfilov was financially prepared for them, he thanked the head of state and said that "now there are no problems."
For your information:
Ella Pamfilova has been the Chairperson of the CEC since March 2016. She previously held other government posts, including the post of Minister of Social Security in 1991-1994.