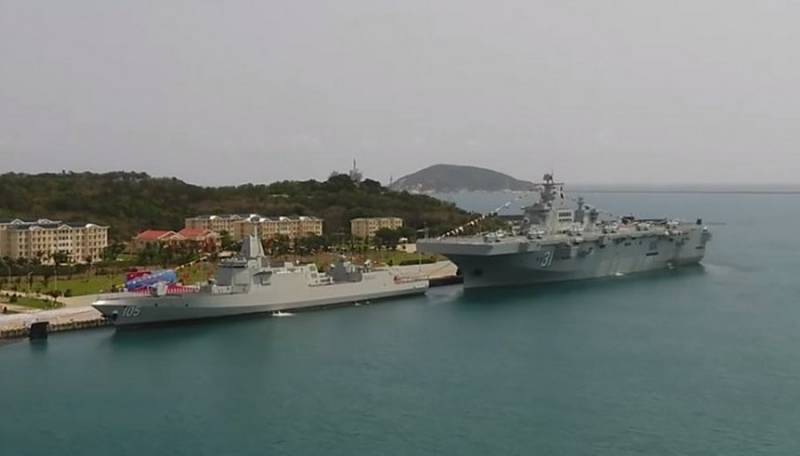 China put into operation the lead universal amphibious assault ship of the Type-075 project. The ceremony took place on April 23 at the Yuzhny naval base
fleet
PLA Navy in Sanya on the island of Hainan.
The President of the People's Republic of China Xi Jinping was present at the ceremony of handing over the UDC, named "Hainan" in honor of the island to the fleet. The ship became part of the Southern Fleet, which is responsible for the South China Sea and the Gulf of Tonki. Two more UDCs of this project will soon also complete the composition of the Chinese fleet.
As previously reported, at the first stage, the PLA Navy plans to build in three helicopter carriers of this type out of eight planned for construction. The first three of them were built according to the Type-075 project, the remaining five UDC will be built according to the modernized Type-076 project with an increased displacement.
The UDC of the Type-075 project has a displacement of 36 thousand tons with a length of 235 meters, which is comparable to the American UDC of the same class. The width of the helicopter carrier is 36 m, the draft is 8,5 m. The design speed of the UDC is 23 knots, the cruising range at a speed of 15 knots is about 10 thousand nautical miles. The ship can accommodate up to 1500 marines and more than 70 units. technology. In addition, the UDC can carry 28 transport and attack helicopters of several types (Z-8, Z-9, Z-18, Ka-28, Ka-31), possibly a shipborne version of the new Z-20.
The UDC's own armament will be, according to some sources, 30-mm artillery systems H / PJ-11 and anti-aircraft missiles HHQ-10.
By the way, the third destroyer of Project 055 Dalian and the sixth strategic nuclear submarine Great March 18 of Project 094 joined the PLA together in the UDC.