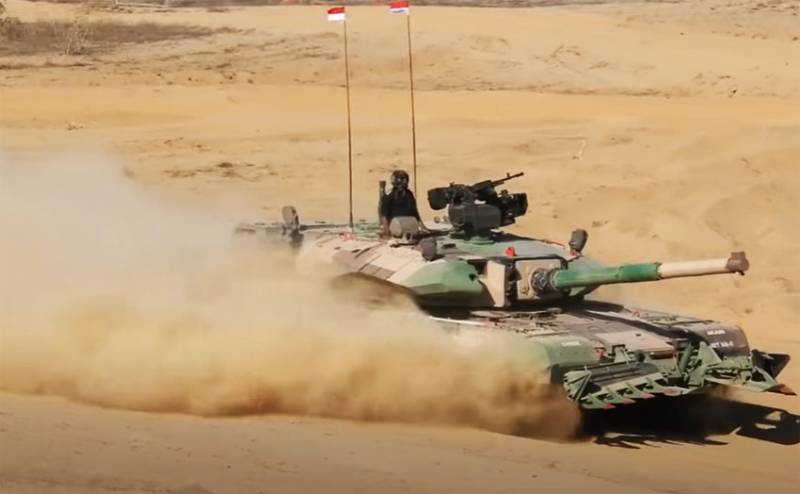 In India, test tests of the firepower of the modernized
tank
Arjun. This is the Arjun Mark-1 ALFA version, which has received several innovations and improvements from the Indian armored vehicle manufacturer.
The upgraded tank received an improved gunner's main sight, integrated with the automatic target tracking system. The manufacturer of such a sight notes that it will now be easier for the crew to hit the target while moving both the Arjun tank itself and the target.
Shooting at targets on the move was carried out during tests at the Pokhran test site.
During the tests, the commander of the armored division, General Ajit Singh Ghelot, and other senior officers were present at the test site.
According to the Indian general, the tank demonstrated a high level of controllability, as well as high performance when firing in a desert area. The specific parameters of firing (distance to the target, the speed of the tank and targets at the time of firing) are not reported.
Indian general:
The modernized Arjun Mark-1 ALFA tank meets the needs of the Indian army.
By order of the Indian Ministry of Defense, the manufacturer has modernized 14 elements, blocks and units of the tank.
It should be recalled that a few days ago, the Indian military announced the need to purchase light tanks that could be used in the high-mountainous region of Ladakh on the border with China. It was stated that the T-72 and T-90 tanks are too heavy for such conditions. Although earlier the Indian side itself noted that the T-72 and T-90 are superior to the Chinese "mountain" Type 15 in many respects, including the firing range and armor penetration.