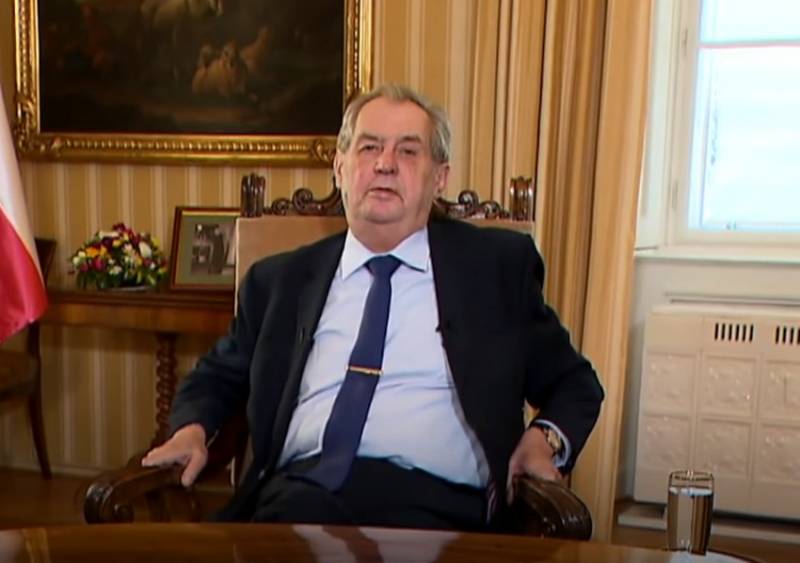 Czech President Milos Zeman made an emergency appeal to the Czech people, in which he said that the Czech special services had no evidence of the involvement of two Russian "agents" in the 2014 Vrbetica bombings.
Zeman stressed that in the materials of the special services there is no information about the presence of Russian "spies" in the Vrbetice area. In addition, during the inspection of the second warehouse before its explosion, no explosive devices were found. At the same time, the President of the Czech Republic does not exclude that they (Russian spies) were there anyway, the special services simply cannot prove it.
According to him, now there are two versions of what happened in the warehouses. According to the first, the explosions were caused by warehouse workers who violated safety regulations. The second speaks of the involvement of foreign special services. However, in all six years after the explosions in 2014, counterintelligence has never announced its involvement in the explosions of the Russian special services.
The investigation will continue. In case of proof of Moscow's involvement, Zeman threatened with the departure of Rosatom from the tender for the construction of a nuclear power plant in Dukovany. But if on the contrary, then the Czech Republic got involved in the games of the special services and political changes await it.
Recall that the Czech Republic accuses Russia of involvement in the explosions at the warehouses in Vrbetica, where the
weapon
and ammunition belonging to the Bulgarian arms dealer Gebrev. The ammunition was intended for Ukraine. According to Prague, "Russian agents" Petrov and Boshirov blew up the warehouses so that ammunition would not be supplied to the Armed Forces of Ukraine.