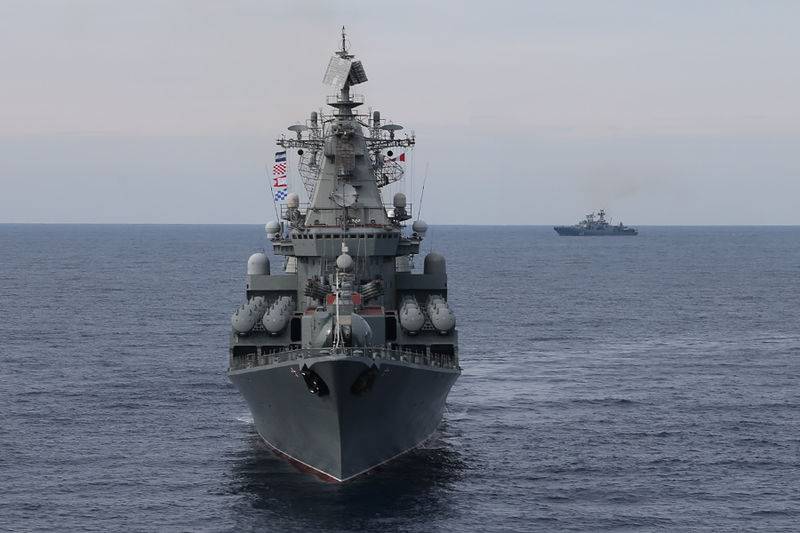 Photo: mil.ru
Scenarios
As a person who is poorly competent in matters
fleet
, I still venture to express my opinion based on a common understanding of the political situation. It seems that the tasks that the fleet solves should be set on the basis of four possible scenarios that are likely to flow into one another.
The first scenario is a limited war with neighboring states.
The second scenario is a limited war with a coastal country (or paramilitary force), separated from Russia by significant water areas.
The third scenario is a war with a great power using non-nuclear weapons.
The fourth scenario is a war with a great power with nuclear weapons.
Obviously, all of these scenarios can potentially spill over into one another. However, I have separated them. For the reason that they require a fundamentally different approach to the formation of ship groupings.
In the first scenario, given the assumed superiority of the Russian Federation over the enemy, the fleet is essentially redundant. The matter will be decided on land, and the possibility of launching missile or artillery strikes from the sea, as well as the landing of troops will be a pleasant addition to the actions of the ground forces. So, scenario number 1 - the fleet is absent, if necessary, forces that are already available to carry out other scenarios are used.
The second scenario assumes the possibility of using force against remote objects, which, no doubt, is useful in the implementation of foreign policy tasks, but, obviously, is not a task of strategic survival for the Russian Federation. It seems that, ideally, the optimal ship for autonomous operations would be a nuclear cruiser, escorted by several frigates, an escort aircraft carrier and a pair of amphibious assault ships and support ships.
If such a grouping is recognized as too expensive and redundant (and, it must be understood that in conflicts with great powers, it will most likely be practically useless), then you can limit yourself to developing a project for an ocean-going frigate capable of presenting a flag, conducting reconnaissance, carrying out an evacuation, to fight pirates, to carry out a blockade of ports of states that do not have effective
aviation
and the fleet, or disembark commandos.
Optimally, it seems to me, if such a frigate is also atomic. Another option is to make such a sailing ship. For example, 2-3 such frigates, one of which cruises continuously across the world's oceans, will fully support Russia's status as a world power.
With the fourth scenario, everything is more or less clear - maintaining an effective grouping of strategic missile submarines capable of inflicting unacceptable damage on the enemy.
It seems that the third scenario may be the most threatening - a war with an adversary superior in conventional weapons, not spilling over into a nuclear one.
There can be several options for such operations.
1. Direct confrontation with a great power, which undertakes not to use nuclear
weapon
.
2. Clash with a coalition of non-nuclear states, which, with the support of a great power, gain military superiority.
3. Clash with internal insurgents, supported by a great power - by various means, up to direct actions of the aviation and navy in the interests of the insurgents.
This scenario seems hypothetical, but it carries a huge danger for Russia if it comes to fruition. It is possible that such a war could be protracted, potentially endless. It seems that in such conditions, the main task of the fleet will be to protect the coastal waters of the Russian Federation in order to prevent the actions of enemy strike forces there, to conduct its own landing operations and counteract enemy landing operations, and to support ground forces from the sea.
Ideas
It should be understood that the creation of a high seas fleet of such strength that it could on equal terms oppose the modern fleet and aviation at a distance from its bases requires huge costs, which seems irrational to go for, at least until the economy of the Russian Federation is comparable with the economy of China or the United States. The high seas fleet in the collision of the great powers could act as an integral part of the allied forces.
However, so far a close "cordial union" with the United States or China has not been seen.
It seems to me that in such a situation one should be guided by the experience of the Great Patriotic War and understand that the actions of the fleet will be characterized by the following features:
1) the fleet will operate from an area reliably covered by air defense means, conducting raiding operations. Actions far away from such areas will always be risky;
2) covering the base area with air defense means will not always be reliable;
3) enemy operations against our fleet will often be successful;
4) some closed sea areas may be lost;
5) the enemy satellite grouping will not be suppressed;
6) many of the tasks of the fleet will be solved by the aviation of the fleet.
It seems that for such actions, the optimal characteristics of the vessels will be:
- small size, allowing effective camouflage of ships;
- low draft, allowing to operate outside the fairways;
- the possibility of transportation disassembled or unassembled by rail - at least for most of the "mosquito" fleet;
- high speed;
- sufficient seaworthiness.
To solve these problems, I consider it necessary to launch mass production of the following boats:
1. Small landing ship capable of transporting and landing 1 MBT.
2. Minesweeper.
3. Anti-submarine ship.
4. Ship of artillery support.
5. Air defense ship.
6. Strike missile ship.
7. Attack torpedo ship.
8. Mine layer.
9. Underwater minelayer.
10. Small torpedo submarine.
11. Armored assault boat.
For the northern regions, it is important to have hovercraft to operate on ice.
I see multihull ships in their optimal shape.
I also consider it necessary to create a fleet service for heavy vehicles and unloading equipment capable of quickly transferring such a fleet from one reservoir to another in off-road conditions.
An extensive network of single basing sites should be created to provide room for maneuver.
Particular attention should be paid to the aviation and air defense of the fleet.
The Marine Corps must not so much train desperate professionals who are ready to storm enemy bases, as instructors who must provide amphibious operations with the forces of conventional infantry units. And temporarily assigned as an instructor to each platoon commander during landing operations to control movements and ensure communication with boats.
Naturally, everything should be built on the domestic component base, even to the detriment of some characteristics.