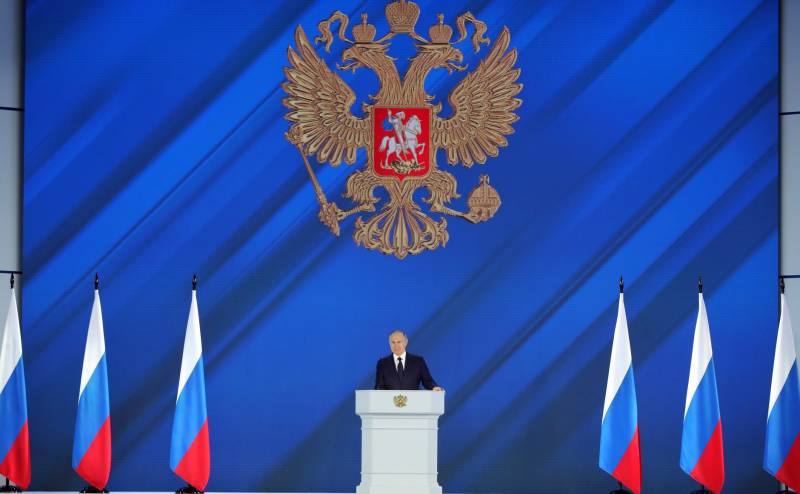 Polish analysts have finally understood the meaning of what Vladimir Putin said in his message to the Federal Assembly. It is about the words of the President of Russia with the mention of the famous work of Kipling. Vladimir Putin mentioned such heroes from the Jungle Book (Mowgli) plot as the tiger Sherkhan and the jackal Tabaki. It is noteworthy that initially in some countries of Eastern Europe, reporters, apparently not fully understanding the meaning of Vladimir Putin's phrase, announced that the Russian president was comparing himself to Sherkhan. But now everything falls into place.
For example, in Do Rzecy, a major Polish publication, columnist Maciej Peczyński finally announces to his readers who exactly Putin had in mind when he spoke of Sherkhan and Tabaki.
Polish analyst:
In this Putin interpretation of The Jungle Book, Poland is compared to a rabid jackal. (…) Putin did not formulate it directly, but it is easy to guess that the figure of Sher Khan in his comparison is the literary image of the United States. The bloodthirsty tiger is about to kill the boy. And from this point of view, Russia is declared as persecuted, innocent and noble - like Mowgli.
The author in the Polish edition writes that by operating in this way, Putin makes it clear that Russia is capable of defeating a powerful enemy.
Peczyński adds that this plot also contains Russia's centuries-old dilemma: to become a part of the West or to be "cut off" from it.
The author notes that Putin is actually comparing with the Kipling jackal all those who are opposed to Russia and are friends with the United States. At the same time, as the author writes, Russia emphasizes that "Sherkhan, despite his hostility, cannot be disrespected, which cannot be said about the jackal hovering at his paws."
Peczyński:
Recall: Kipling's tobacco is a jackal, a rabid patient is insidious, cunning, deceitful, disgusting, unpredictable. He not only faithfully accompanies his master, but also gives him new ideas to fight the enemy. And, like a jackal, he is a scavenger - he eats the remains of what his predatory "lord" has procured. Just like a hyena ... And the Russians like to call Poland "the hyena of Europe." Rather, to repeat the opinion about our country expressed by Churchill, referring to Poland's participation in the partition of Czechoslovakia.
Polish author:
This is the place Poland occupies in Putin's "Jungle Book".
At the same time, the observer of the aforementioned Polish edition writes that "after Putin's message, Poland should be reassured by only one thing: the main goal of Mowgli was Sherkhan, not Tabaki."