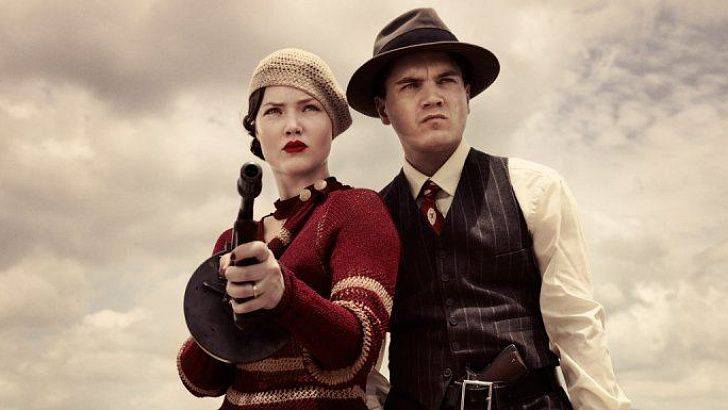 Bonnie and Clyde. Still from the 2013 film.
Did you read
history
Jesse James
about how he lived and died.
But if you want;
something else to read,
then here's the story of Bonnie and Clyde.
(Poems by Bonnie Parker)
Weapon and firms.
Last time we got acquainted with the original John Browning M8 rifle and today we will continue our story, but ... before we talk about the M8 itself, we will have to turn to the story of two people who were directly associated with this particular weapon. It's about the legendary Bonnie and Clyde. Everyone in the USA knows who they are. It's like everyone in England knows about Robin Hood. And, let us note that there is something in common between them, it is not for nothing that the attitude towards them was and remains completely ambiguous. Although that they are both criminals - no one doubts.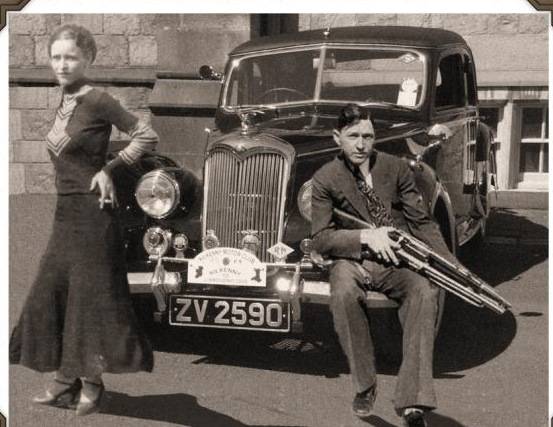 Bonnie and Clyde in front of their car ...
So, let's start with the fact that Clyde Barrow (that was his last name, although he is better known by name) was first arrested at the end of 1926, and, in general, because of a trifle: he did not return the rented car on time ... Then, along with his brother Marvin "Buck", Clyde was caught stealing turkeys. Moreover, he had a job, was not unemployed, and nevertheless, from 1927 to 1929, he opened safes, robbed shops, and stole cars. Such was the youth sociopath. He liked to "shove" against society and not be like everyone else ... He was born in a poor farm family, where besides him there were six more children. So, not in all large families, children grow up to be hardworking and positive, and often vice versa. Although there are many examples of the opposite.
Accordingly, he was arrested in both 1928 and 1929, but he did not end up in Eastham prison in Texas until April 1930. And there, while serving his sentence, he killed another prisoner. However, the humanity of American justice was such that in 1932 he was released early for good behavior. However, the prison did not make him better. Everyone who knew him testifies that after her he only got worse ...
How did Bonnie Parker and Clyde Barrow meet each other? The most reliable version (and there are several of them) is the one according to which Bonnie and Clyde met at her friend's house in January 1930. Interestingly, she was only 150 cm tall, and weighed 44 kg and had a fragile physique! By the way, Clyde himself was not tall. His height was only 162 cm.
She studied well at school. Teachers noted her rich imagination and acting talents. She also wrote poetry and kept a diary, to which she confessed her loneliness. This is probably why she jumped out very early to marry (at the age of 16) and also ... to a hooligan boy, with whom she broke up a year later. She worked as a waitress in a cafe, and this is a completely unenviable fate for such a girl.
They say that Bonnie and Clyde immediately liked each other. And it is believed that she was in love with him. But is it really so, no one knows for sure. But on the other hand, she was a faithful companion to him all the time they were together, and, like Romeo and Juliet, they died on the same day, and even more so - at the same minute. However, they perfectly understood which path they had taken, and what awaited them at the end of it. No wonder she wrote the following verses:
And if sometime
will have to die
To lie to us, of course
in the grave alone.
And the mother will cry
and the bastards laugh.
For Bonnie and Clyde
there will be peace.
In addition to them, WD Jones, a friend of the Barrow family since childhood, went along the same slippery slope. And although he was only 16 years old, he nevertheless somehow persuaded Bonnie and Clyde to take him with them and the very next day of their trip together he committed his first murder: together with Clyde, they killed the owner of the car in order to steal it. And on January 6, 1933, it was now Clyde who shot the sheriff, who was trying to detain them.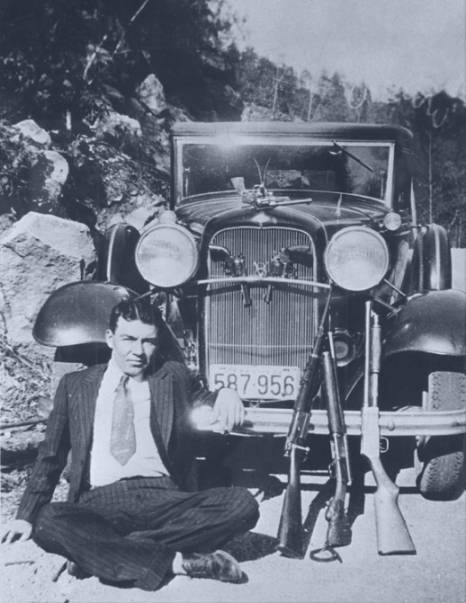 Sixteen-year-old WD Jones committed two murders in the first two weeks after joining Clyde Barrow in 1933!
Very soon the gang was covered, but, firing back from the police, the "Barrow gang" managed to get away. But where they lived, they found many of their photographs (Bonnie loved to be photographed!), Which were immediately sent to neighboring states.
It's funny, but Bonnie and Clyde were also involved in ... kidnapping, and not just people. From 1932 to 1934, they kidnapped five ... police officers. And they did not kill them, but let them go, although far from home. And even money was sometimes given to them so that they had something to return back to. You can imagine how frightened they were!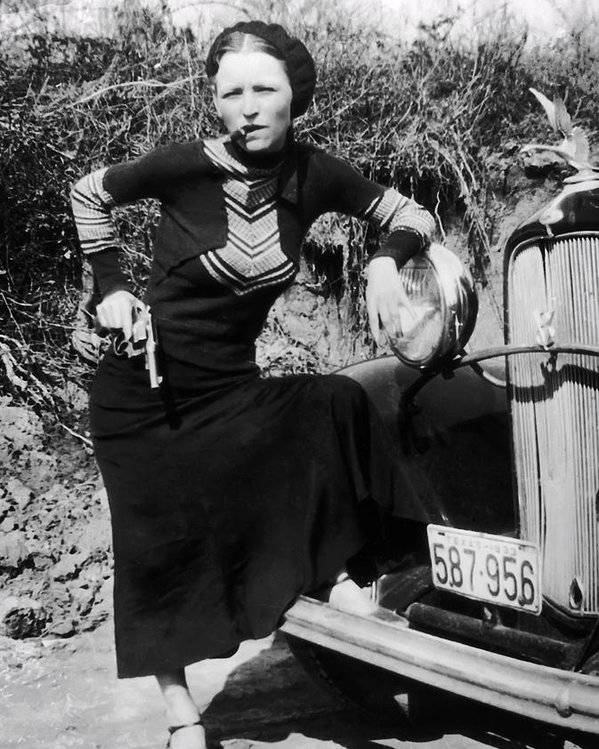 Bonnie Parker posing with a revolver and a cigar in her mouth, April 1933. She loved such show-offs ...
In August 1933, they raided an ammunition store in Illinois, where they obtained ... Browning automatic rifles, pistols and a lot of ammunition. Bonnie, as it turned out, was also very fond of shooting and, in addition, being photographed with a weapon in her hands.
Clyde, apparently, did not like Eastham prison very much, and he decided ... to arrange a raid on it and free his comrades who remained there. Now he has such an opportunity. And on January 16, 1934, he carried out an attack on the prison. At the same time, several criminals escaped from her at once, which caused a sharp outrage from the public, but Clyde took revenge on the Texas Department of Corrections, so hated by him.
And five days later, they also killed two patrolmen and a 60-year-old constable on the road and kidnapped Police Chief Percy Boyd. Together they crossed the Kansas border with him, and then freed him in a clean shirt and gave him a few dollars. At the same time, Bonnie asked him to tell everyone that she does not smoke cigars, and only smokes Camel cigarettes!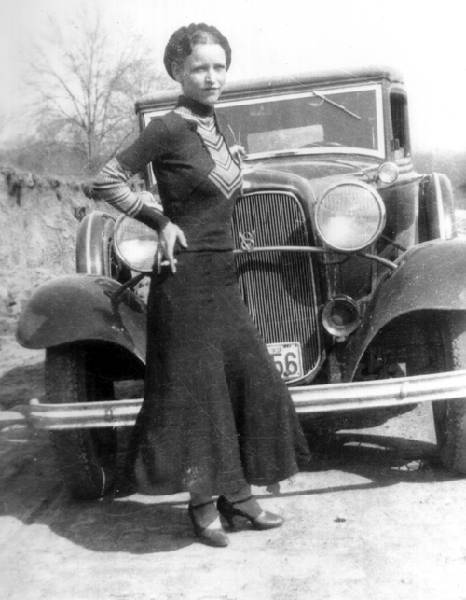 Bonnie at the Ford V8
These crimes overwhelmed the patience of the police: the chief of patrolmen L. G. Fairs announced a reward of $ 1000 for their ... corpses; it was for the corpses, and not for the capture, that is, carte blanche was officially issued for the murder of Bonnie and Clyde!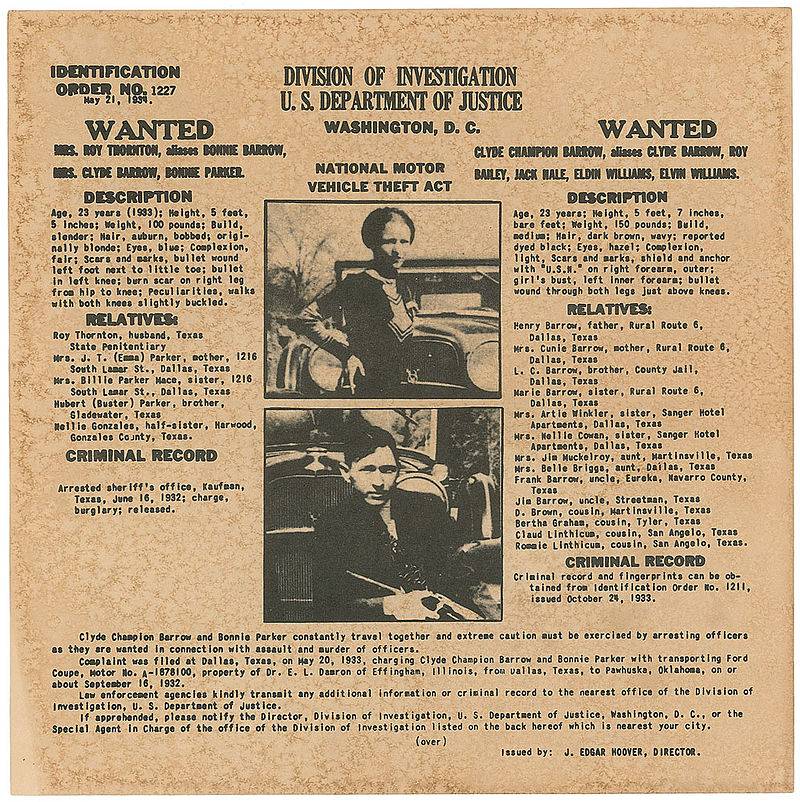 "Wanted!" Police poster with Bonnie and Clyde
As a result, Bonnie and Clyde were ambushed on a country road in Bienville, Louisiana and were killed on May 23, 1934: the "Ford V8" in which they were moving, shot four Texas Rangers and two other officers of the local Louisiana police. Then they calculated that 167 bullets had perforated the car, with 110 hitting Bonnie and Clyde. The first got about 60, the second - about 50.
It turned out to be not so difficult to calculate the paths of movement of the "Barrow gang". Having already figured out their intended route, Haymer mapped out the ambush site.
Ted Hinton later admitted in an interview with reporters:
"It's a pity that I killed the girl. I liked her so much ... "
Both Bonnie and Clyde have repeatedly expressed a desire to be buried together, but Bonnie's family has secured her burial at Fishtrap Cemetery in Dallas. In 1945, her remains were reburied at Crown Hill Memorial Park. Different numbers of those present at her funeral in Dallas are named: from 20 to 50 thousand. An epitaph was made on the girl's gravestone, compiled by her mother:
"As from the dew and in the sunshine, only flowers are more beautiful, so this world, the old world, is brighter - by the rays of people like you."
Clyde was buried in Western Heights Cemetery, in the same Dallas, next to his brother Marvin. And, note that his funeral gathered 15 people, which is also a lot.
Interestingly, both Bonnie and Clyde were insured, and the insurance premiums for their deaths were paid to their families in full. So it was then! But then it was decided that if the insured died as a result of a crime committed by him, then his insurance will be canceled.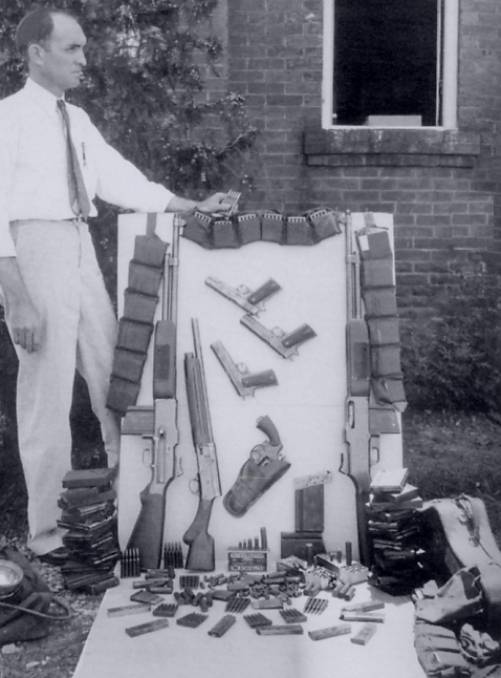 Bonnie and Clyde's arsenal found inside the Ford ...
And now the answer to the question about the reasons for their popularity, or, let's say, several versions to choose from. Let's see: John Dillinger had the appearance of a female pet, "Handsome Floyd" was also "handsome", had a pretty appearance. But were they as popular as outwardly quite ordinary Bonnie and Clyde? Well, yes, they made love outside of marriage and shot people. Yes, they were young, so what? Have you plundered a lot? No ... Have they killed many? Well, yes, it really is: 15 people, and the fact that Bonnie committed the murder was not proven! But her, frankly, impudent photographs gave her, and her "comrade" fame much greater than what they would deserve with newspaper reports about their small thefts and completely unnecessary murders. They created a visible image of a girl who rose above society and is not afraid to show herself as such. In the end, many people, including women, would like to become Rodion Raskolnikov in their souls, but their imagination is poor to represent someone in this role. And here ... here she is, Bonnie, in Clyde's arms, and both of them are free as the wind!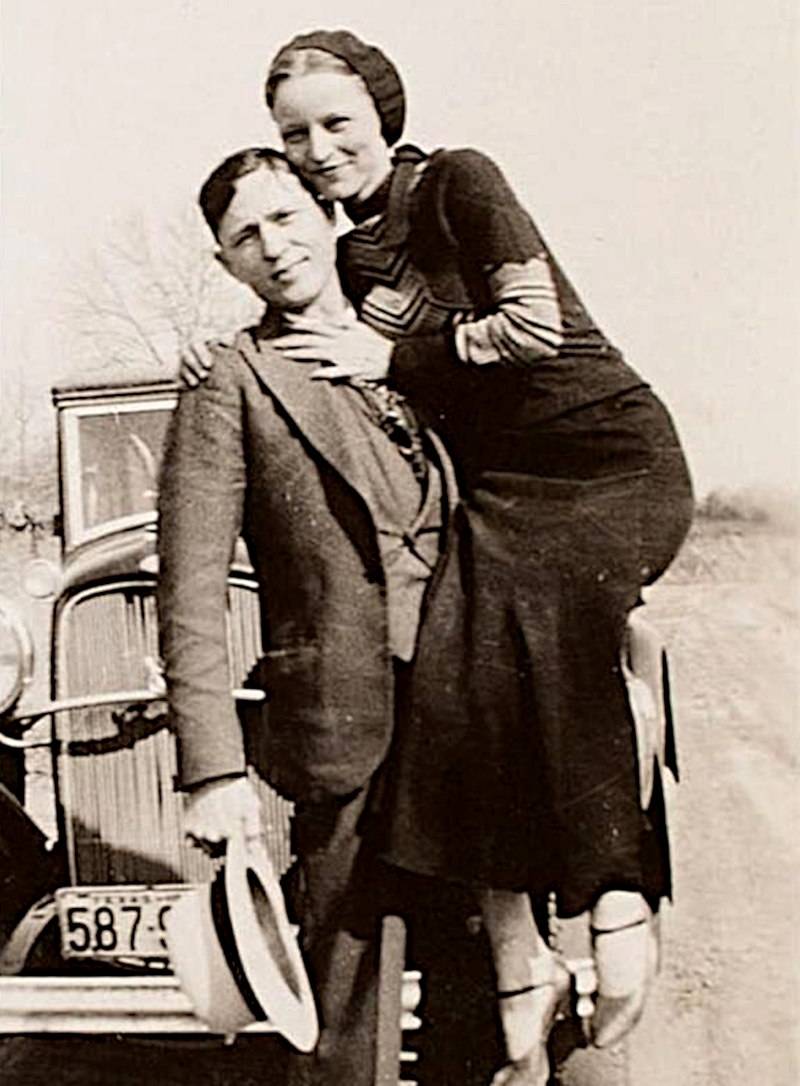 He literally wore it in his arms! Bonnie and Clyde in March 1933. US Library of Congress (like all other photographs)
Well, in reality, the death penalty was provided to Clyde after the first murder on his bandit path. And then, when he killed about 14 people and, in addition, robbed several dozen more banks and shops, what could he count on? And all this plus the visualized image of this couple in love - which was reflected in the souls of ordinary Americans, exhausted by the Great Depression and dreamed of only one thing - freedom from caring for a simple piece of ordinary daily bread ...
To be continued ...