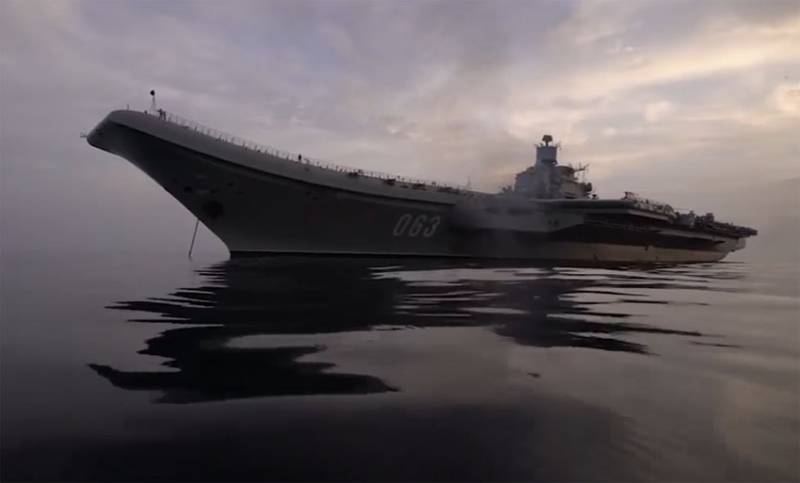 American experts continue to assess Russian military power. At the same time, the same persons can issue statements that are diametrically opposite in meaning. It is said that Russia poses the greatest threat to the United States in military terms, it is said that the military potential of Moscow is based on "old Soviet weapons."
Opinions about the "old Soviet weapons" are held, for example, in the Popular Mechanics, which presents reflections on the state of the Russian Naval
fleet
.
The American author writes that Russia currently has only one aircraft carrier in the Navy, but that one has already been under repair for a year. The article, and once again in a relatively short period of time, indicates that "Admiral Kuznetsov" "clearly needs to be replaced, but Russia has neither the funds nor the industrial capacity to create a new aircraft carrier."
The aircraft carrier "Admiral Kuznetsov" has been called "an old Soviet asset that brings a lot of problems to the Russian Navy."
The author recalls that the aircraft carrier should return to performing tasks as part of the Russian Navy in 2022 - after major repairs and related incidents, including the incident with the flooding of a floating dock.
At the same time, the US press writes that after the modernization "Admiral Kuznetsov" can go to sea with the latest weapons, including hypersonic missiles. It is pointed out that the United States needs to "take this into account and respond to it."
As you can see, the analytics of American observers is confusing - either "Russia has no funds for modernization," then "it will go out to sea with a hypersonic
weapons
". And this is against the background of the fact that the United States, for obvious reasons, does not know what weapons the Russian aircraft carrier will receive after overhaul and modernization.
It should be noted that the United States itself cannot decide on the future of its aircraft carriers. After Joe Biden came to the White House, US Navy admirals began to declare the need to increase the number of aircraft carriers in the fleet. The minimum number of 11 aircraft carriers, prescribed in the US military law, does not suit the American admirals.