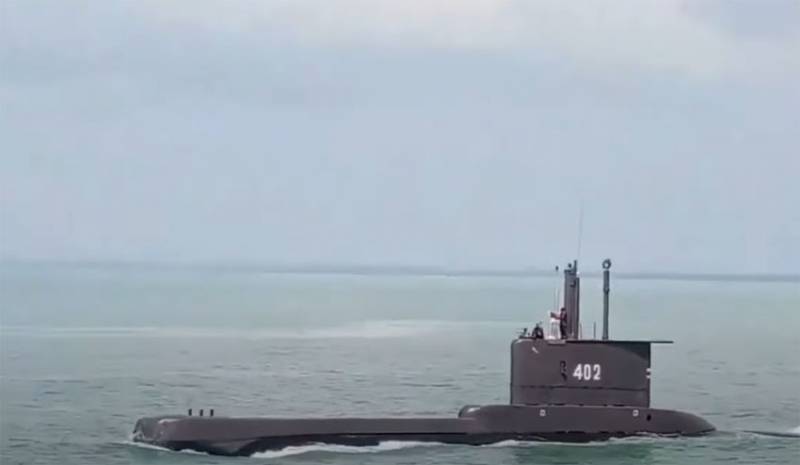 The Indonesian Navy reports on the continuation of the search for the Nanggala-402 submarine that disappeared the day before. This submarine, as reported by Voennoye Obozreniye the day before, was built in Germany and has been in operation since 1981.
As noted in the Indonesian Navy, there has been no contact with the Nanggala-402 crew for more than a day.
According to the latest information, there were 53 crew members aboard the submarine.
The reports indicate that the Nanggala-402 submarine conducted a torpedo-firing exercise north of Bali. In the area of ​​the exercise, immediately after the loss of communication with the submarine, search vessels were sent. A distress signal was also sent to ISMERLO - International Bureau of Submarine Rescue and Evacuation. This organization, as noted, is coordinating the search operation.
The Australian and Singaporean navies are involved in the search.
Qatari information service "Al Jazeera" reports that the official Jakarta expects to use a special deep-sea rescue vessel DSVR, which is in the Singapore Navy, in the search and rescue operation.
It is noted that Singapore and Indonesia signed an agreement in 2012 on the rescue of submarines (crews) in case of emergencies.
Indonesian authorities:
We are doing everything to understand the situation and find the missing submarine. For this we cooperate with various partners. We intend to clarify the situation with the crew in the near future.

Against this background, it became known that quite recently - in mid-March - technical problems were discovered on board the Nanggala-402 submarine. According to some reports, we are talking about problems with the vertical rudder. There is no information that these problems were eliminated before the start of the April exercises.