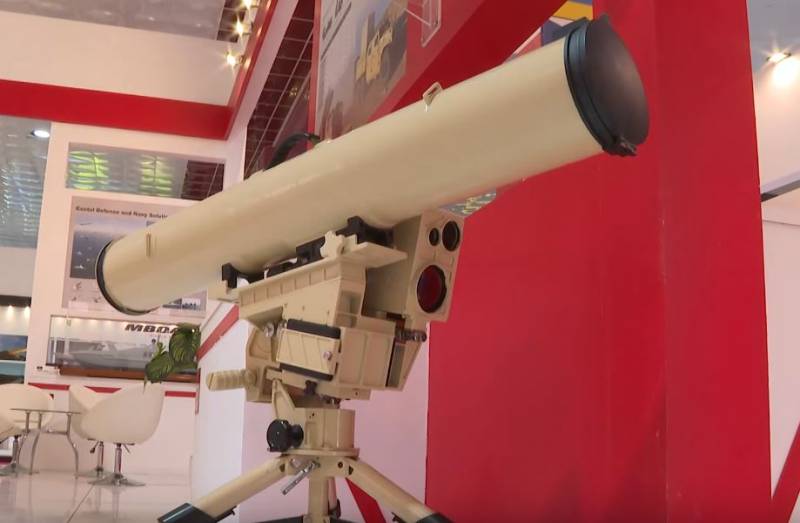 GAM-102
From April 10 to April 13, the IQDEX exhibition was held in Baghdad, quite modest by regional standards. But a number of products have caught the attention of military observers. Among them is the new creation of the Chinese developer Poly Defense, in which the contours of the Russian
weapons
.
Thirty years ago, China's military products were rejected by potential customers because of the nondescript weapons that it produced in huge quantities [...] In particular, the anti-tank weapons available at that time lagged behind those of NATO and the Warsaw Pact. Of course, in 30 this is no longer the case.
- writes the Philippine edition 21AAR.
At this exhibition, Poly Defense from China presented two ATGMs of the GAM family [not to be confused with the series of products of the same name from Norinco]. The lighter GAM-10X (firing from the shoulder) competes with the HJ-12 from Norinco and is positioned as a competitor to the FGM-148 Javelin from the American Raytheon.
Another model was the GAM-102, which is mounted on a folding tripod. According to the developer, the GAM-102 is a laser-guided medium-range ATGM with a diameter of 152 mm and a length of 1200 mm, capable of covering a distance of up to 4 km [armor penetration of a tandem shaped charge, according to some sources, is 1000 mm]. Its closest Chinese counterpart is the HJ-11 from Norinco.
There is a noticeable similarity with the Russian-made Kornet, especially in the part of the portable launcher, which houses the rocket, and the day / night rangefinder attached under it [...] The portability of the Kornet, in which the main components of the entire weapon system (tripod, rangefinder, rocket ) are separated, well suited for the design of their products by other countries
- writes the foreign press.
For our part, we note that the firing range of the Kornet ATGM is 5,5 km, armor penetration - 1300 mm behind ERA.