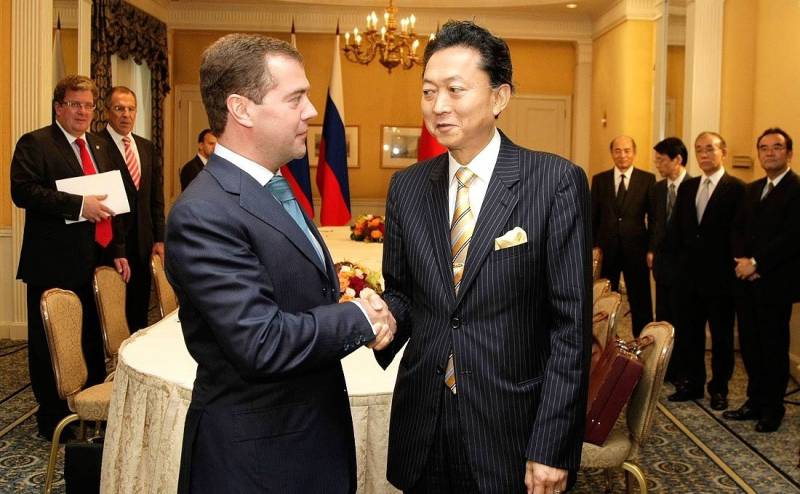 Former head of the Japanese government, Yukio Hatoyama, proposed recognizing Crimea for the sake of a chance for Russia to return the Southern Kuriles. This statement was severely criticized by the citizens of the Land of the Rising Sun.
It is reported by the Japanese portal Yahoo News Japan.
It is imperative for Japan to show respect for
stories
the Crimean problem and understanding in relation to Russia.
- said the ex-Prime Minister of Japan Hatoyama. He was prime minister from September 2009 to June 2010 and met with the then Russian President Dmitry Medvedev (you can see this meeting in the photo).
According to the former head of the Japanese government, it is necessary to agree on mutual recognition - the Crimea is Russian, and the Kuril Islands (in Tokyo they are called the northern territories) Japanese.
The readers of the portal expressed their thoughts on this in the comments. One of the citizens of the Land of the Rising Sun believes that Tokyo should not "wag its tail" in front of Moscow in order to cheer it up.
Another was even more categorical. He told how he was terrified that the head of the Japanese government was Hatoyama:
I want to tell him to shut up, because anti-Japanese forces make the most of such former prime ministers.
Another reader believes that the recognition of Crimea by Russia is completely unacceptable, because it will spoil Japan's relations with Western countries.
Our country is part of the Western capitalist camp that respects human rights and freedom. Turning the peninsula into an object of bargaining will lead to a deterioration in relations with NATO countries.
- he considers.
At the same time, many ordinary Japanese openly say that Russia will not give up the South Kuriles, and the government in Tokyo is using this issue for political self-promotion.