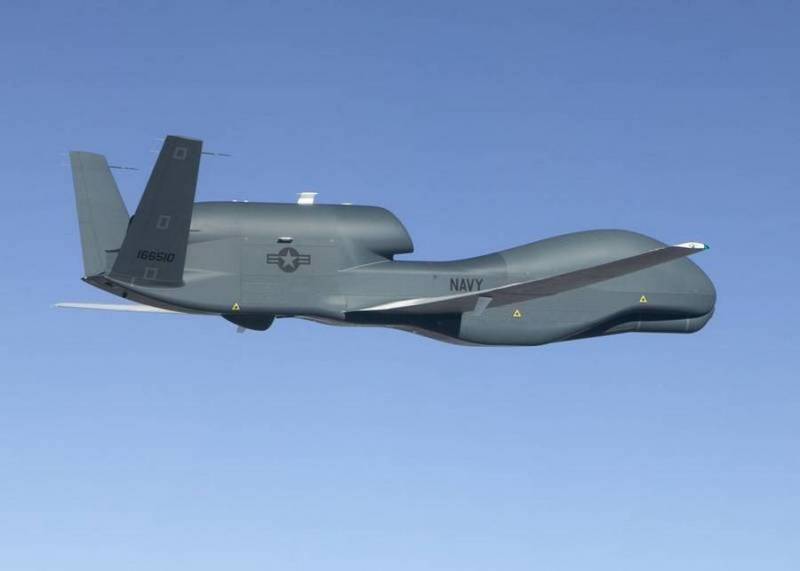 American intelligence is very interested in the areas closed by the Russian Ministry of Defense near the Crimean Peninsula. The US Air Force strategic unmanned aerial vehicle RQ-4B Global Hawk was sent to the area.
As follows from the data of Western aviation resources, the American drone on Wednesday, April 21, circled for a long time near the area of ​​the imposed restrictions on aircraft flights. During this time, he made several flights along the coast of the Krasnodar Territory, and was also in the area of ​​the peninsula. The flight took place at an altitude of 15 thousand meters without entering the airspace of Russia. After that, the drone went to Ukraine, where, apparently. reconnoiters the situation on the contact line in Donbass.
The RQ-4B Global Hawk took off from the island of Sicily, where these drones are based at Sigonella AFB.
As known from open sources, the RQ-4A Global Hawk has high definition cameras, infrared sensors and radars to track moving objects. It is capable of monitoring the situation to a depth of 300 kilometers and transmitting data in real time via a satellite channel.
Earlier, the Russian Ministry of Defense introduced a ban on aircraft flights at an altitude of up to 19 km over the south of Crimea (from Sevastopol to Feodosia), the adjacent territorial waters of Russia, as well as over part of international waters. The restrictions were introduced in connection with military exercises.