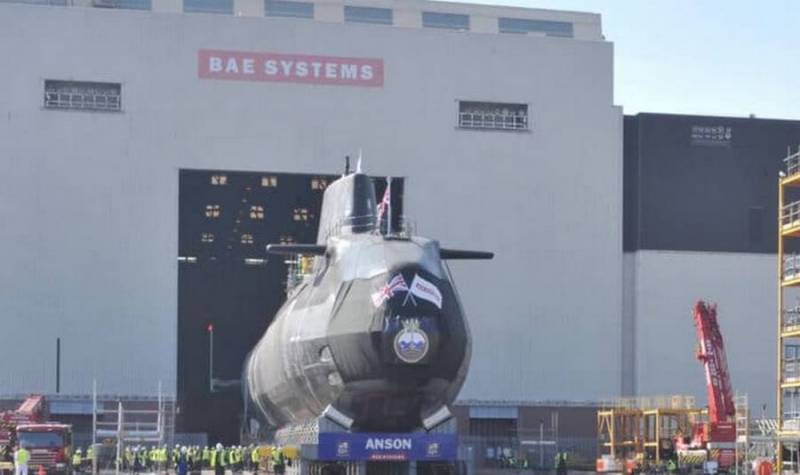 The Royal Navy of Great Britain will soon receive a new nuclear submarine of the Astute type ("Astute"). The ceremony took place at the BAE Systems shipyard in Barrow-in-Furness.
According to a statement from the shipyard, the submarine will be completed afloat and carry out the necessary tests. The first sailing is scheduled for next year.
The new submarine, dubbed Anson, is the fifth nuclear-powered sub in a series of seven Astute-class submarines for the Royal British Navy. The new submarines are to replace the Trafalgar-class submarines (three such nuclear submarines, which were commissioned from 1989 to 1991, remain in service).
Currently, the British Navy has already received four submarines of this project. The lead HMS Astute was transferred to the British Navy in November 2010. The second submarine in the series, HMS Ambush, entered the Navy on March 1, 2013. The third submarine in the series, HMS Artful, was transferred to the British Navy on December 10, 2015 and entered service.
fleet
March 18, 2016. The fourth submarine, HMS Audacious, entered the fleet on May 14, 2020.
Submarines are designed both for operations in the fleet and in isolation from the main forces. Submarines can be used to carry out missions to combat enemy ships and submarines, attack ground targets, land groups of combat swimmers and collect reconnaissance information.
Displacement - 7400 tons, hull length - 97 meters. Underwater speed - up to 29 knots. The working depth of the immersion is 300 meters. Armament - six 533-mm torpedo tubes, as well as Tomahawk cruise missiles and Harpoon anti-ship missiles.
Rolls-Royce PWR-2 Nuclear Reactor Not Requiring Reboot. The service life is 25 years. Two turbines manufactured by Elstom (former General Electric) were installed. This power plant provides the rotation of one shaft and the operation of the jet propulsion. In addition, on board the submarines of this class there are two auxiliary diesel engines, as well as an emergency propulsion engine that rotates the retractable auxiliary propulsion.