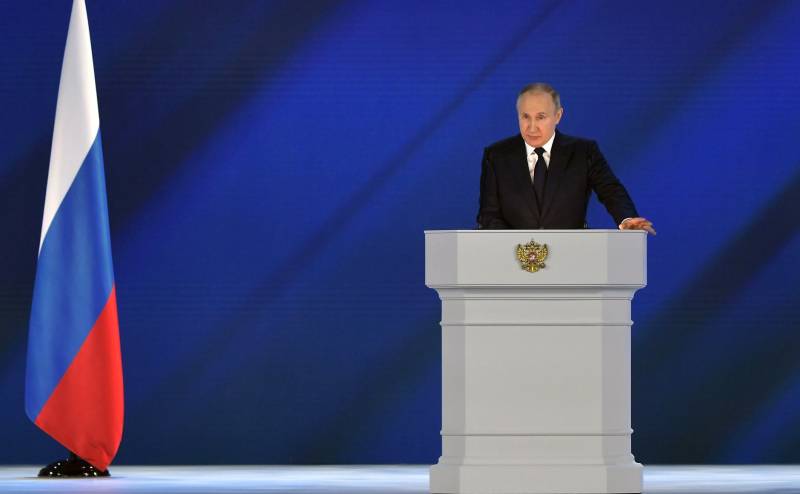 At the end of his address to the Federal Assembly, Vladimir Putin touched upon foreign policy.
Putin:
Russia has its own interests. If someone does not understand this, chooses a threatening tone in relation to our country, then Russia has something to answer.
Putin said that the world is already accustomed to the fact that some forces are dictating to others. This, as the president notes, is extremely dangerous.
Putin:
The international community, for example, does not notice that the President of Belarus was going to be killed, to organize a coup in Belarus.
The President noted that preparing the assassination of the country's leader is "too much", "it goes beyond all boundaries."
Vladimir Putin:
The detainees give confessionary testimonies about how they were going to disconnect the entire Minsk from power, how to arrange the collapse of the energy system of Belarus.
Head of the Russian Federation:
Imagine what a coup d'etat in Belarus would lead to. What would happen to this country?
Here Vladimir Putin compared the situation with what happened in Ukraine.
Some countries have switched to a "new kind of sport": who will blame Russia more and more groundlessly?
According to the head of state, Russia wants to have good relations with all participants in international communication:
But we are attracted more and more. And around those who cling to us, like Kipling's - around Sherkhan - all sorts of Tobaccos are spinning. And howl.
Putin noted that we do not want to burn bridges.
But if someone decides to burn these bridges or blow them up, then Russia has a tough, quick and asymmetrical answer. And everyone who goes against Russia will regret it as they have never regretted.
Putin:
I hope no one will ever cross the red line with regard to Russia. And where this line will pass, we will determine ourselves.
The President recalled the rearmament of the Russian army, including through hypersonic missile weapons. At the same time, the head of state called on the international community to de-escalate and negotiate various systems
weapons
in order to prevent the world from sliding into a global military confrontation.