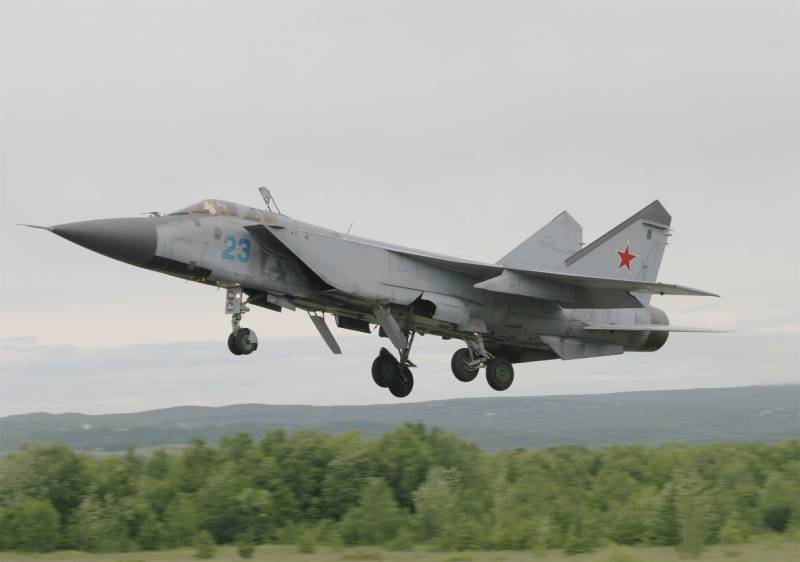 The Chinese press paid attention to the Russian MiG-31 interceptor fighter. The main topic for discussion was the issue of the relevance of its use 40 years after the start of operation in the USSR Air Force.
An article appeared in a major Chinese publication Sina Military, the author of which states that "Russia is fixated on its old MiG-31 interceptor." At the same time, the Chinese author is trying to explain the reasons for the "fixation" of the Russian Aerospace Forces on this plane.
From the article:
Earlier in Russia, information appeared that work was underway to create the MiG-41 - a promising long-range fighter-interceptor with stealth technology. However, for many military experts, the very term "interceptor" has become synonymous with "antiques from the Cold War." So why are Russians investing in PAK DP in the XNUMXst century?
The Chinese Sina notes that Russia is taking this step in connection with the advancement of NATO infrastructure to its borders, as well as in connection with the transformation of the Arctic into an arena of potential military confrontation.
From the article:
From the point of view of the economic and geographical situation in Russia, it is practically impossible to use ground-based air defense and anti-missile defense systems to completely cover the coast of the Arctic Ocean. This length is over 5000 kilometers. Therefore, the Russians can only hope that the fighters of the Aerospace Army will cope with this task.
On the pages of Sina, they write that today the Arctic direction is covered, among other things, by MiG-31 interceptor fighters, which are capable of "stopping American strategic bombers until they launch a missile strike on Russian territory."
The Chinese author writes that the interception of American strategic bombers in the Arctic by other Russian fighters is "difficult" - "including because of the remoteness of the airfields and the speed characteristics of the fighters themselves." That is why, according to the Chinese publication, Russia does not write off the MiG-31 and is working on the creation of the PAK DP - MiG-41.