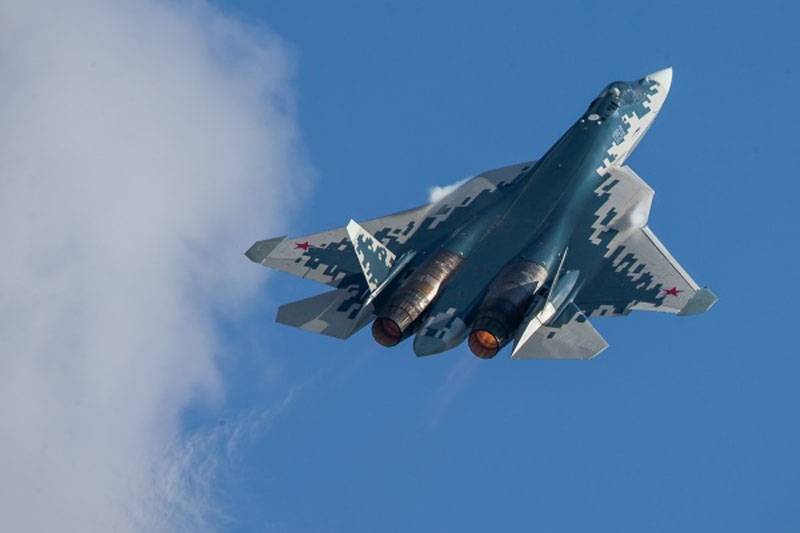 It confirms the information that the newest Russian Su-57 fighter can be used as a central link in network-centric operations.
First of all, we are talking about the fact that the fifth generation fighter of the Russian Aerospace Forces will receive controls for a group of unmanned aerial vehicles. According to RIA
News
, referring to an industry source, the Su-57 fighter will be improved in this regard. So, work has already begun on the corresponding avionics and software of the corresponding type.
The source claims that control will be carried out by a group of small UAVs.
In addition, it is noted that work is underway to create a special stand, which will be used to test the interaction of the fighter with unmanned aerial vehicles. This will allow pilots to better master the practice of this kind of interaction on the ground - in a computer simulation mode.
An important note is that small drones can be housed in the inner compartment of the Su-57. In messages
RIA News
it is said that such UAVs can be lifted into the air by a fighter over 10. These can be both reconnaissance and reconnaissance-strike UAVs. Moreover, the drones will be able to exchange data via special communication channels not only with the leader - the Su-57 aircraft - but also with each other, which will create a complete picture of what is happening on the ground and in the air in the area of ​​such an operation.
One of the missions is to counter enemy air defense systems. From aboard the Su-57 fighter will "go" drones that will be able to disorient the enemy's air defense. In particular, their task is to overload the channels of anti-aircraft missile systems with data, create multiple decoys, and also attack enemy air defense systems.