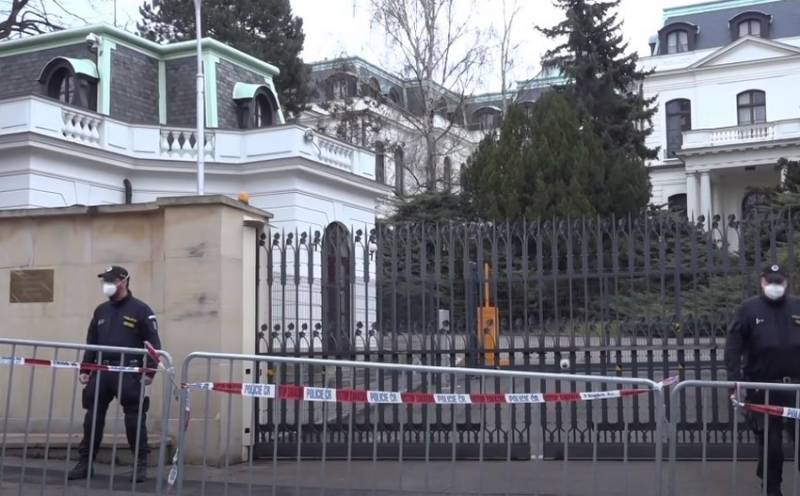 Prague does not intend to dwell on the measures already taken against Moscow, which it accuses of involvement in the 2014 Vrbetica bombing. According to the Czech press, the country's Foreign Ministry is preparing another expulsion of Russian diplomats.
According to the network portal Seznam, the Czech Republic made a decision to "equalize" the number of employees remaining in the embassies, and voices are also heard about the complete closure of the Russian diplomatic mission. The publication refers to sources familiar with the situation, claiming that on Wednesday, April 21, a new head of the Czech Foreign Ministry will be appointed, who will announce the expulsion of a certain number of Russian diplomats from the country. At the same time, it is emphasized that this will not affect the Russian ambassador to the Czech Republic.
According to the newspaper, Prague wants to equalize the number of employees in the embassies. Following this logic, the Czechs will have to send 22 Russian diplomats at once so that 5 people remain, as Czech diplomats in Moscow. If this threat materializes, Moscow's response will follow immediately, but it's hard to imagine what it will be. Only if the Czech embassy in Moscow is closed at all.
The fact that the option of expelling Russian diplomats is not an invention of the press is evidenced by statements made by the Czech parliament. They demanded to "cleanse" the Russian embassy, ​​and also to demand compensation from Moscow for the alleged harm caused by the explosion. It is not yet known how much else they will agree to, but the fact that they do not intend to stay in Prague is for sure. Voices are already being heard demanding the "return" of the land on which the Russian embassy is located. True, not yet from the upper echelons of power, but judging by the situation, and not far from that.
The fact that the Czech Republic "took a bite at the bit" suggests that feeding this
stories
comes from outside, most likely from the United States. Apparently in Washington, Prague was promised something that it cannot refuse and continues to sever all possible ties with Russia. The Russian Foreign Ministry was right when they called the investigation into the explosions at the warehouses "a marasmic parade." Moscow has warned that every unfriendly step will be doubly answered. However, it should be so.