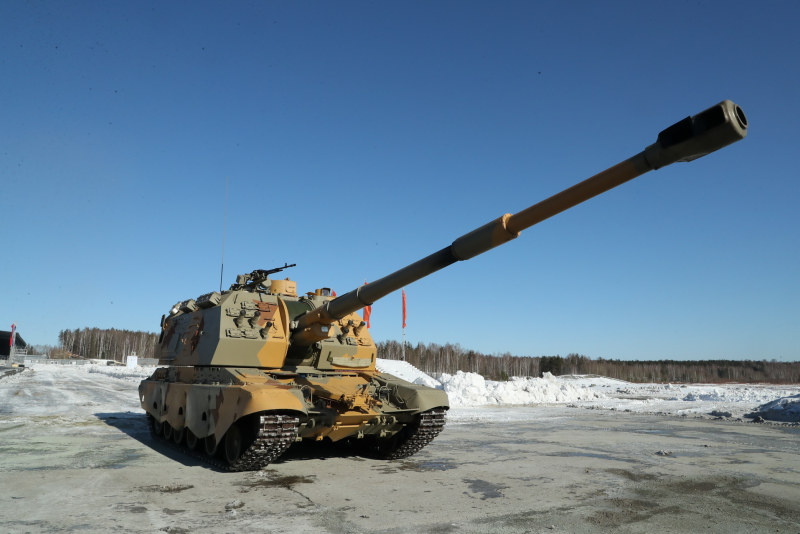 155-mm "Msta-S"
The West is closely monitoring the supply of military equipment from the Russian Federation abroad, jealous of the expansion of the list of users of Russian defense products.
New features of "Msta-S"
The Russians themselves disclosed information [about the new buyer], demonstrating to a foreign customer the Msta-S self-propelled howitzer, which was adapted to the NATO standard 155 mm gun caliber
- indicated in the Western press by the Polish author Rafal Surdacki (edition
Defence24
).
We are talking about a recent demonstration of the capabilities of the combat platform when working together with the Orlan-10E UAV. As officially stated, "an excellent result of interaction was shown": when receiving the coordinates of the target from the drone, the combat system automatically guided the gun. According to the manufacturer, in this way you can successfully fire at a distance of 40 km.
At the same time, it is not known for whom exactly this demonstration was organized. There is a mysterious mention of a certain "foreign contractor". At the same time, the caliber of 155 mm indicates that the recipients of the modernized "Msta-S" can be the countries of Africa, Southeast Asia and the Middle East, which still used Western artillery systems.
However, it should be noted that currently the only export customer of the Orlan-10E system is Myanmar, which also has in its arsenal 155-mm howitzers Nora B-52 [Serbia] and NORINCO SH-1 [China]
- explain in the Polish edition, indicating the alleged "first customer" howitzer "Msta-S" with a NATO caliber.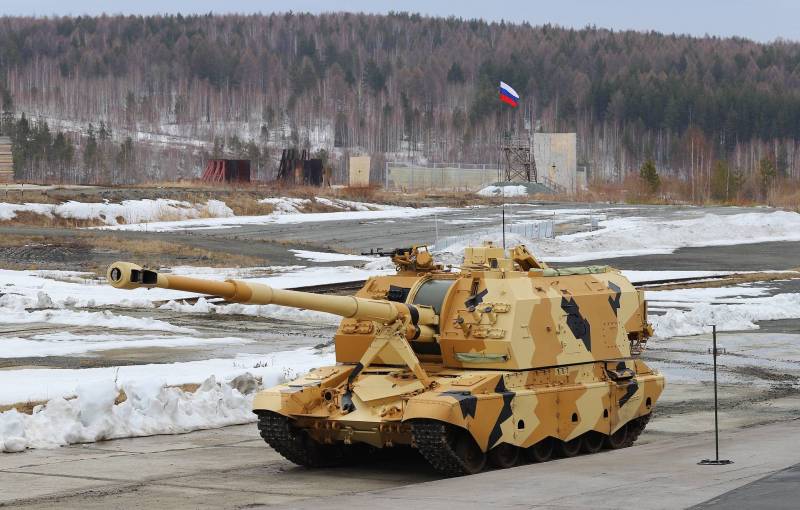 155-mm "Msta-S"
Consumer of Russian systems
According to a number of analysts in the West, Myanmar has found itself in the zone of influence of Moscow, which has increased especially after the recent military coup (which, in the opinion of Western analysts, did not support China). In this regard, the modernization of the army is carried out according to Russian "templates", accompanied by the purchase of equipment from the Russian Federation.
In recent years, Myanmar has acquired Mi-24 and Mi-35P attack helicopters, MiG-29 fighters, Yak-130 trainer aircraft, S-125 Pechora-2M anti-aircraft missile systems [from Belarus], BRDM-2MS armored personnel carriers [the latter were donated]. In addition, in January 2021, a contract was signed for the supply of Pantsir-1S air defense missile systems and the above-mentioned Orlan-10E reconnaissance systems.
An export version of the Msta-S, adapted for NATO standard ammunition, was presented to the public in 2020. The new modification is designed to significantly expand the list of potential buyers of the Russian howitzer. Currently, the 152-mm version is used by seven operators, not counting the Russian Federation. These include Azerbaijan (18 units), Belarus (12), Ethiopia (12), Georgia (1), Ukraine (40), Venezuela (57) and Morocco (unknown number).