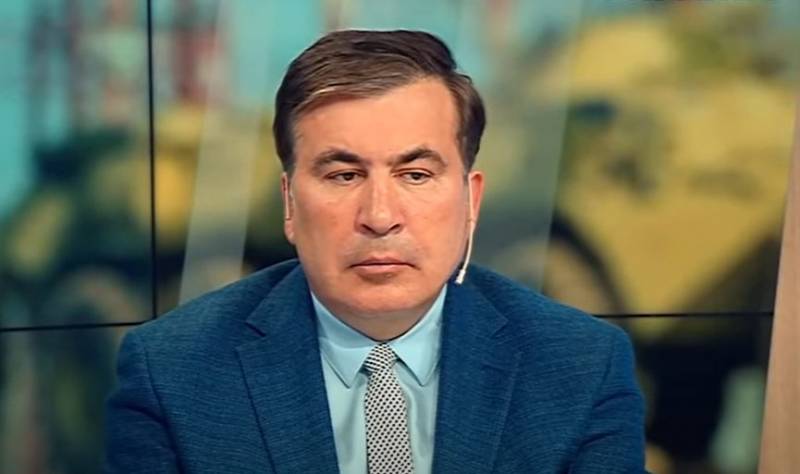 The statement of the former President of Georgia on the air of one of the Ukrainian TV channels caused a wide discussion in Ukraine. Commenting on the situation in Donbass and in Ukraine in general, Mikhail Saakashvili noted that Kiev should not pin too high hopes on the West.
This statement followed the words of the TV host Yevgeny Kiselyov, who presented Saakashvili as the only politician in the world "who had to endure Russia's open war against his country."
The ex-president of Georgia and the ex-head of the Odessa State Administration of Ukraine said that he would not wish anything like this to anyone.
According to Saakashvili, if there is a war between Russia and Ukraine, then "Kiev will only have to relax and have fun." The former president of Georgia said that in 2008 the West promised him military assistance in the confrontation with Russia, but Tbilisi did not receive any real military assistance.
In August 2008, we did not receive any military assistance.
Then, we recall, during the operation to force Georgia to peace, Russian troops drove the Georgian army out of South Ossetia after it attacked the positions of the Russian peacekeepers. As a result, the Russian Armed Forces stopped about 15 km from Tbilisi.
Saakashvili on Ukrainian TV:
Then Sarkozy came to me (at that time the President of France - approx. "VO") and told me: "Well, Misha, Europe has no soldiers."
The then US President George W. Bush also did not provide military assistance to Georgia. Saakashvili also draws attention to this.
The ex-president of Georgia openly made it clear that in the event of a war with Russia, Ukraine will act alone, and that the West will not help it militarily.
In Ukraine, Saakashvili's statements have been criticized. It is stated that "the West will definitely help Ukraine and will not leave it alone in the face of Russian aggression." In particular, this phrase from Joe Biden is quoted, which amused Mikhail Saakashvili to a great extent. He recalled that the aforementioned George W. Bush had promised him the same.