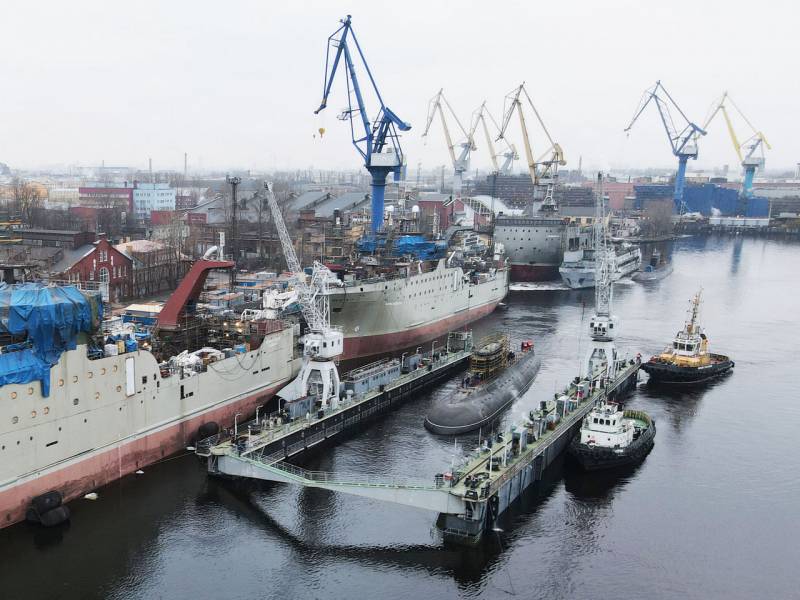 The completion of the second serial diesel-electric submarine "Magadan" of project 636.3 has been completed, the diesel-electric submarine has begun testing. This was reported by the press service of the Admiralty Shipyards.
The third "Varshavyanka" for the Pacific Fleet has entered the stage of mooring tests, which will last, according to preliminary data, a month and a half and end in early June. During this time, the shipyard will undergo a final check of all the systems and mechanisms of the submarine, and the diesel-electric submarine will also be prepared for the first exit to the factory sea trials, which will start immediately after the mooring. The crew will begin settling on the submarine at the end of April.
Factory running gear should be completed by Navy Day, which is celebrated on July 25th. Most likely, the submarine will participate in the Main Naval Parade in St. Petersburg, after which it will return to testing. The transfer of the submarine to the Navy is planned for this fall.
The Magadan submarine is the third in the series and the second serial after the lead Petropavlovsk-Kamchatsky and the first serial Volkhov. It was laid down on November 1, 2019, on the same day as the fourth submarine of this project, named Ufa. At the present time "Ufa" is at the stage of docking; the ship's solid hull is being welded. The launch of Ufa will take place, according to the Ministry of Defense, at the end of 2021.
Recall that the lead submarine of the Petropavlovsk-Kamchatsky series was transferred to the Russian Navy on November 25, 2019, the first serial submarine - Volkhov - entered the
fleet
October 24, 2020. Both submarines will go to Kamchatka this year, making an inter-fleet voyage along the "southern" route: Mediterranean Sea - Suez Canal - Indian Ocean.