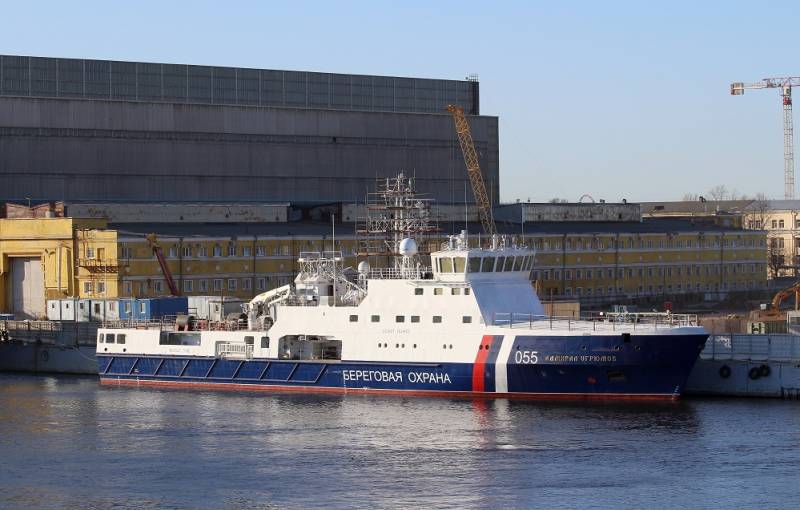 The border service of the FSB of Russia will soon receive another patrol ship. In St. Petersburg, a second rank border patrol ship of Project 2 (code "Purga") was launched.
The launching ceremony took place at the shipyard of the Almaz shipbuilding company without much publicity, which is already a tradition. According to the bmpd blog, this is the sixth ship of Project 22120 built by the company for border guards.
It is noted that neither the order, nor the bookmark of this ship, which received the name "Admiral Ugryumov", was officially announced. In July last year, when the fifth patrol ship of Project 22120 was handed over to the border guards, it was said that the Taimyr was the last ship in the series.
Thus, taking into account the launched Admiral Ugryumov, Almaz built six Project 22120 border patrol ships (code Purga) for the FSB Border Service of the Russian Federation. The lead ship and the first serial ship went to serve on Sakhalin, the rest joined the border service in Kamchatka. With a high probability we can say that the sixth ship will go to the Far East.
The patrol ship of project 22120 code "Purga" is a high-speed multipurpose ice-class coast guard ship, capable of keeping watch in the ice. The ship's hull is equipped with ice reinforcement, allowing it to overcome ice more than half a meter thick. Maximum speed - 24 knots. economic - 14 knots. The economic cruising range reaches 6000 miles, the autonomy is 20 days, and the crew size is 16-25 people + up to 14 people as passengers.
There is a platform for basing a Ka-226 helicopter. It is possible to install a 30-mm artillery complex AK-306M.