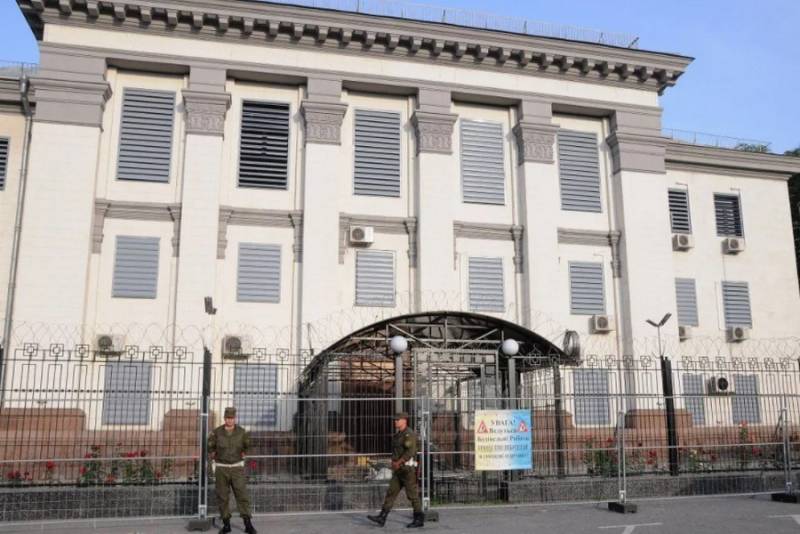 Ukraine has decided to expel the Russian diplomat. The corresponding note was received today by the Russian embassy in Kiev, the diplomatic mission said.
The Ukrainian Foreign Ministry reacted to the detention in St. Petersburg of the Ukrainian consul Aleskandr Sosonyuk and decided to expel one Russian diplomat in response. A note demanding the expulsion of the senior diplomat of the embassy arrived at a Russian diplomatic institution today.
As explained at the Russian Embassy in Ukraine, it is not about the expulsion of one of the employees, but about a specific person - senior diplomat Yevgeny Chernikov. Apparently, he stepped on someone's foot there in Kiev.
On April 17, Kiev announced "retaliatory actions" after the arrest of the Ukrainian consul in St. Petersburg. The FSB officers, as they say, took him "red-handed" while trying to obtain some classified information related to the bases of the Russian Ministry of Internal Affairs and the FSB. Since the consul is an inviolable person, after drawing up the relevant documents he was taken to the consulate of Ukraine, and then, according to the norms of international law, he was sent from the banks of the Neva to the banks of the Dnieper.
The Ukrainian Foreign Ministry immediately disowned any illegal actions of its consul, stating that what the FSB was telling about was not and could not be. These are all the machinations of Moscow. And he promised "retaliatory measures" to the illegal actions of the Russian Foreign Ministry.