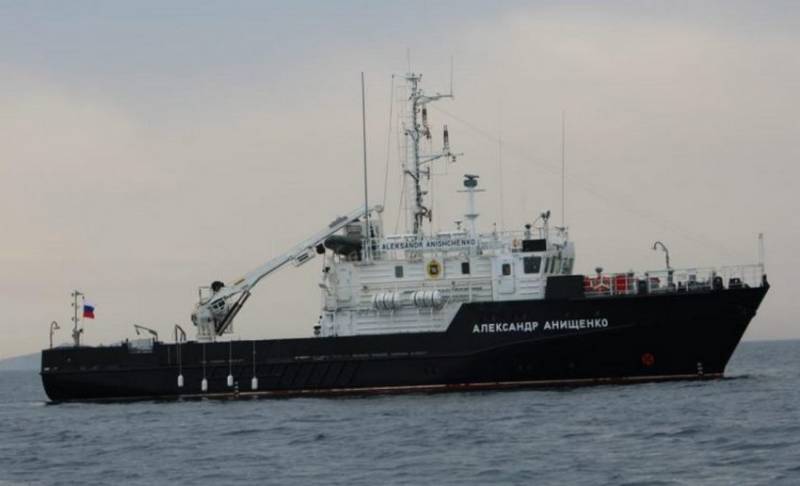 The Pacific Fleet will soon get into service with the fifth large hydrographic boat of project 19920. According to the press service of the Shipyard named after October Revolution, in Vladivostok, an acceptance certificate was signed for the boat.
BGK "Alexander Anishchenko" is ready for transfer to the Pacific Fleet, the acceptance certificate was signed at the outfitting base in Vladivostok, where the boat was tested. The timing of the transfer of BGK has not yet been announced, but it will happen in the near future.
The boat named in honor of Alexander Anischenko - a famous hydrographer who fought on the Baltic Sea during the Great Patriotic War
navy
, will become part of the Pacific Fleet already the fifth BGK project 19920 "Baklan". The boats of this project are intended for hydrographic and pilot works in the coastal zone, but they can also deliver people and goods to the unequipped coast.
The boat was laid down in Blagoveshchensk on July 1, 2019, and launched at the end of August last year. Unlike the previously built BGK, this boat is distinguished by more modern electronic equipment. The ship is equipped with a three-beam echo sounder, thanks to which it is possible to study the bottom topography, as well as a navigation system capable of automatically plotting a course for the ship according to the specified parameters.
TTKh BGK: displacement - 320 tons, longest - 36,4 m, overall width - 7,6 m, bead height - 3,6 m, draft with full reserves - 2,1 m, cruising speed - 11 knots, cruising range - 1 thousand miles, autonomy - 10 days., Crew - 11 people.