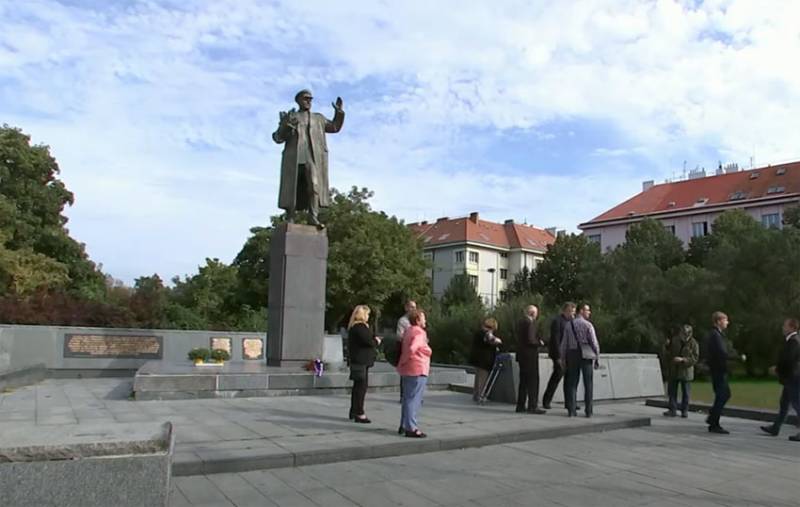 The Czech press presented a selection of the anti-Russian steps taken by the republic's authorities over the past few years. It is noted that in addition to the numerous sanctions that were supported by Prague, the Czech government took a number of steps that caused at least irritation from Russia.
The Czech edition Aktualne writes that one of these steps was the dismantling of the monument to Marshal Ivan Konev.
The headman of the Prague-6 district, where the monument was located, then cynically declared that the statue was being removed, as "it is without a medical mask." After that, a guard from among the police officers was assigned to the headman, as a local official announced "threats to his life from Russia." It is noteworthy that after a while the Prague mayor Zdenek Grzhib also asked for protection, who began to claim that he could be "poisoned" because of the renaming of the square in front of the Russian embassy to Boris Nemtsov Square. Russia then simply changed the delivery address of its correspondence to "Korunovachny 34".
The Czech press indicates that the country's authorities have proposed to erect a monument to the soldiers of the Vlasov army, who "liberated Prague from the Nazis." This seemed to the Czech authorities to be an appropriate action. But when in Russia it was proposed for the military personnel participating in the 1968 events in Prague to consolidate their veteran status, this caused indignation in the Czech Republic.
Aktualne recalls that the Czech Republic was one of the first to decide to expel Russian diplomats in its time in connection with the Skripals case. Then Russia was accused of "interfering in the internal affairs of the Czech Republic." Moscow then responded symmetrically, expelling Czech diplomats.
This list can be continued if Prague continues to position itself as an anti-Russian capital with all the ensuing consequences for the Czech Republic. Instead of cooperation and constructive dialogue, the Czech elites, clearly fulfilling an external directive, are so far inclined towards confrontation.