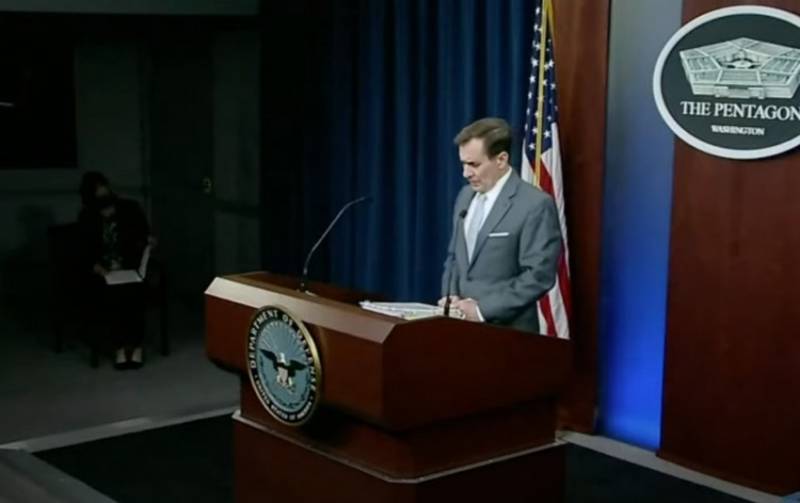 Russia should open a number of closed areas of the Black Sea to free maritime navigation. This is the call made by the Pentagon on Friday.
The American military was strongly "concerned" with the ban on innocent passage in three regions of the Black Sea from April 24 to October 31, 2021, imposed by the Russian Ministry of Defense, of foreign warships and other vessels. Moreover, all three closed areas are located in the territorial waters of Russia and do not interfere with free navigation through the Kerch Strait. Earlier, claims against Russia were expressed in NATO.
However, the Pentagon does not intend to pay attention to the fact that Russia is closing three areas in the Black Sea, and continues to assert that Moscow "hinders free navigation" through the Kerch Strait, dragging the Sea of ​​Azov here. It is not difficult to guess that all this comes from Ukraine, it was the Ukrainian media that were the first to raise the noise that Russia allegedly closes the Kerch Strait in order to completely destroy the ports of Ukraine in the Sea of ​​Azov.
Pentagon spokesman John Kirby called on Russia to "ensure freedom of navigation", saying the Black Sea closure was intended "to undermine Ukraine." At the same time, he threatened to continue the operations of American ships in the Black Sea.
The State Duma called the US claims "arrogance", stating that the Americans' demands "go beyond reason."
Maybe they still have to free our airfields near Moscow for convenience? The impudence of these gentlemen has lost reasonable boundaries: either give them Crimea, or liberate the strait.
- said Ruslan Belbek.