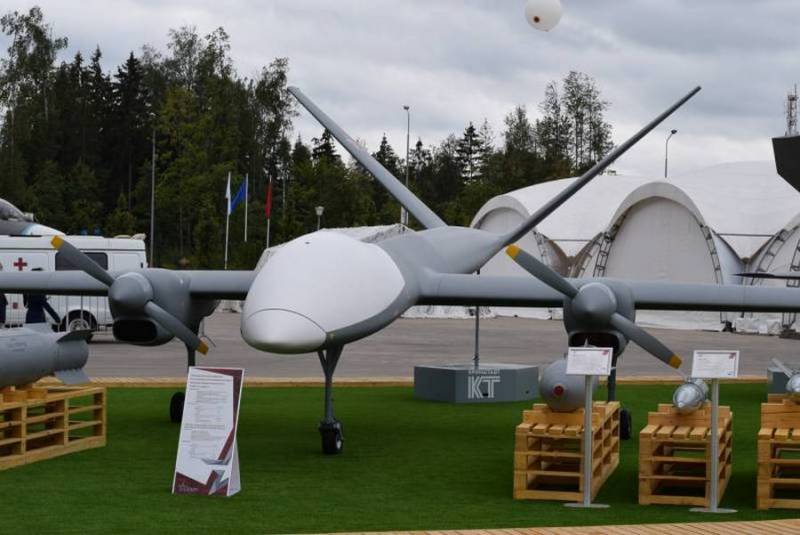 A prototype of the Sirius strike drone, developed by the Kronstadt company in the interests of the Russian Ministry of Defense, will appear in 2022. It is reported by
RIA News
with reference to a source in the DIC.
The first prototype of the Sirius strike, as well as its flight tests, will begin next year, 2022, the source said. So far, nothing is known about further plans, the company does not comment on this information in any way.
It is known that the new drone will receive a more powerful complex of weapons compared to the strike UAV "Inokhodets" (Orion), also developed by the "Kronstadt" company. On the external sling, the Sirius will be able to carry 300 kg of payload, the armament will include guided air-to-surface missiles, unguided and corrected bombs.
The company has already shown the new drone to the military, although it was a full-size model. The show took place within the framework of the "Army -2020" exhibition. At the same time, preliminary characteristics of the drone were presented, which may change in the process of its creation. Let's hope not for the worse.
Sirius is said to be a medium-altitude, long-range drones. Structurally, it is an aircraft of normal aerodynamic design with a thin fuselage, large straight wing and V-shaped tail. The power plant includes two turboprop engines.
Wingspan - 23 m, length - up to 9 m. Maximum takeoff weight - 2 - 2,5 tons (preliminary), of which 1 ton is fuel. Payload - 450 kg (external sling - 300 kg). Flight altitude - 7 thousand meters, cruising speed - 180 km / h.
In the future, "Sirius" will have to supplement the line of medium-altitude attack drones in the Russian army, which so far includes "Outpost", "Pacer" and "Altius".