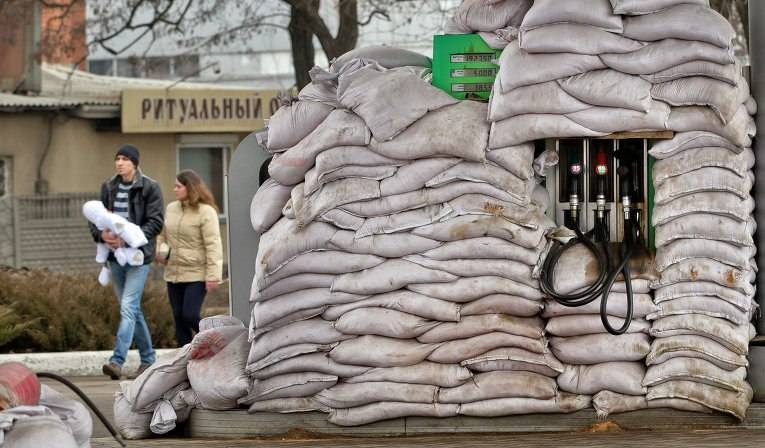 Late preparations
In anticipation of a possible resumption of shelling by the AFU of peaceful cities, the authorities of the DPR and LPR organized an audit of the bomb shelters. We recently checked the warning systems. Now they are looking into the possibilities for the evacuation of civilians from the villages close to the front line - a conditional measure, since the same Donetsk is almost completely under fire. In the DPR, they counted as many as 860 places, plus tent camps that the Ministry of Emergency Situations prepared for mobile covid hospitals. Health care, spurred by the pandemic, is conducting an audit. All services are ready to go into emergency mode on signal. In Donetsk, office buildings were "protected" with sandbags. Rather for reasons of entourage than for protection. I wonder if any preparatory work is underway in case of shelling in medical and educational institutions? Some forms about security measures came, but how exactly it was proposed to be rescued there is still unknown.
Social networks, as usual, are full of panic rumors. Tell the scary ones
stories
that prisoners are being taken out of the front-line colonies, and archives are being evacuated in various instances and services and secret documents are being burned. In fact, of course, the population is quite calm, although in stores you come across crazy people with string bags full of flour or cereals. People are tired of waiting - many already sincerely yearn for the resolution of this timelessness, even at the cost of blood. Those who spent 2014-2015 away from their homes are calculating evacuation options. In recent days, despite the tension in the media and social networks, many are confident that Kiev will not dare to attack. People are probably just tired of waiting.
Fatal carelessness
In Donetsk, enemy agents are actively working on social networks and even in the media. Many online communities openly conduct anti-government propaganda, repost Ukrainian media, or commit extremist statements. Nobody moderates comments feeds, which are full of outright threats, calls for terror, etc. Moreover, Donetsk advertisers actively use the services of these groups, without fear of acting as a sponsor of terrorism. On the other hand, why should they be afraid if the law enforcement agencies of the republic do not pay the slightest attention to such activity?
Probably, the idea that if large-scale hostilities begin tomorrow, all these open and sleeping agents of the enemy will instantly deploy a factory of fakes and propaganda, does not occur to anyone, either in the security forces or in the government. And in vain - working ahead is easier than reaping the fruits of your own inaction later. Moreover, in the LDNR, official channels for informing citizens are often much less popular than some communities on social networks. It will not be difficult to play the "authorities lie ..." card, but these matters are probably too complicated and unpleasant for those in charge. How different is it to hold elections to the "youth parliament"!
food security
In recent weeks, the population has finally become convinced that no one is engaged in price containment in the government. Prices are growing by leaps and bounds, and even for those products that are produced in the republic and, in theory, should be sold at the same prices. The desire of traders and businessmen to "cut the dough" is understandable and natural. It is not clear only why they are allowed to raise the prices of socially important goods to the level of Rostov-on-Don, while the incomes of citizens still do not reach the conditional Pskov. If a war breaks out, this will mean a decrease in income for many - primarily pensioners receiving Ukrainian pensions. Does anyone really think that traders will be ashamed of themselves and reduce the exorbitantly high prices in the event of an exacerbation?
But work is in full swing to create a second line of defense. Moreover, for some reason, photo-video of these works are posted on the network. I would like to believe that this is such a cunning trick and subsequently these positions will not be covered with surgical precision. However, all this is perceived today rather as a PR move by the ex-commander of the Vostok battalion Alexander Khodakovsky, who has recently become more active, than a real work to strengthen the defense.
However, all these are important and necessary questions, but not critical. Most likely, if Kiev decides to go to war, the population will not have time to deplete food supplies. They will not protect the bags at state institutions, and not everyone will have time to reach the bomb shelters, as well as assess the quality of the second line of defense. If the wheels turn, most likely, events will develop very quickly.