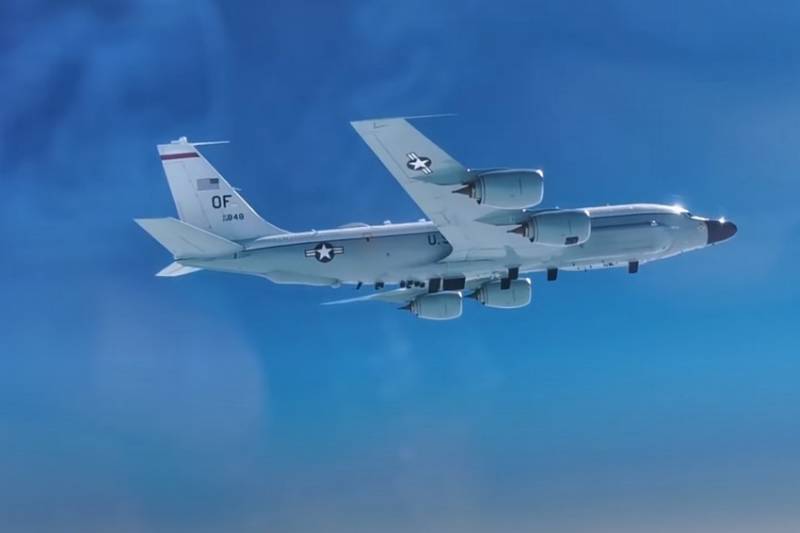 The United States, while building up its forces on European territory near the Russian borders, does not forget about the Far East. As noted by the Ministry of Defense, recently in this region, the intelligence activity of the US Air Force has increased.
A video of the Russian long-range interceptor MiG-31 intercepting an American reconnaissance aircraft RC-135 in the Kamchatka Peninsula has appeared on the Web. The video appeared on the YouTube channel of TK "Zvezda".
According to the Ministry of Defense, on April 16, ground control devices detected an air target approaching the Russian borders. For identification and "interception," a MiG-31 interceptor from the air defense on duty in Kamchatka was raised, which detected a US Air Force RC-135 reconnaissance aircraft moving towards the Russian border.
After the discovery, the American plane headed in the opposite direction, and the crew of the MiG-31, accompanying him and making sure that he was following the course, returned to the home airfield. There was no violation of the border.
It is noted that last week an American RC-135 reconnaissance aircraft was spotted over the Pacific Ocean, moving towards the Russian borders. Thus, the Americans are checking the operation of the Russian air defense system, timing the time from detection to the appearance of Russian interceptors in various areas, as if "probing" the defense.
In just this week, forty-three aircraft and fifteen reconnaissance drones from NATO countries have been discovered near the Russian borders. Twice the air defense forces on duty lifted fighters into the air, "intercepting" too impudent scouts.