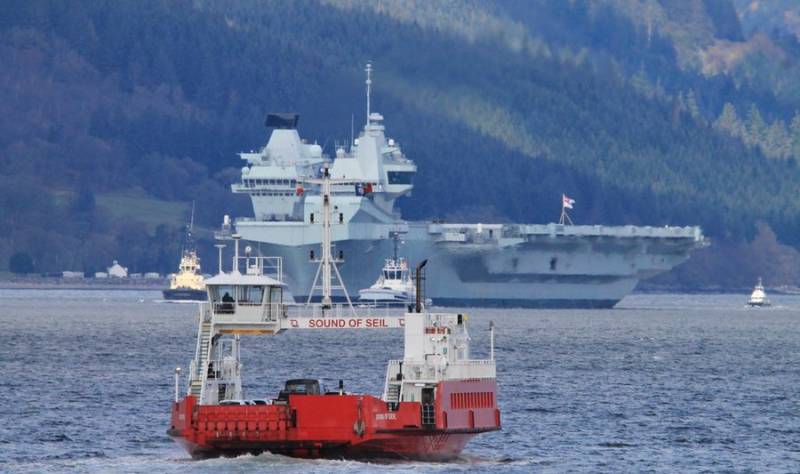 Flagship of the Royal Navy
fleet
In the UK, the aircraft carrier HMS Queen Elizabeth crashed again. According to the British edition of the Daily Mail, a pipe of the fire main burst on the ship.
The incident happened during the transition of the aircraft carrier from Portsmouth to Scotland at the end of March, but it was reported about it only now. At the same time, it is noted that the breakthrough of the highway happened in the fire extinguishing system, which underwent a major overhaul after a similar incident in 2019. The repair and modernization of the system cost £ 5,5 million.
The command of the British fleet reported that the leak was quickly eliminated and did not affect the plans to prepare the aircraft carrier for a long voyage to the Pacific region.
It is known that in May, Queen Elizabeth will lead an aircraft carrier group that will pass the Mediterranean Sea, the Persian Gulf and enter the Pacific Ocean. The task of the AUG in London was designated as "containment of China," which made Beijing laugh, which is the most powerful player in the Asia-Pacific region, despite the presence of the United States there.
Meanwhile, in Britain itself, the first hike of HMS Queen Elizabeth is causing some concern. This is due to the passage of the AUG through the Taiwan Strait, where it can be subjected to "electronic warfare attacks from China." In addition, China can arrange provocations against British ships.
Earlier it was reported that the British AUG will take part in the joint exercises of the fleets of the United States and Japan, which will be held in the Asia-Pacific region this summer.