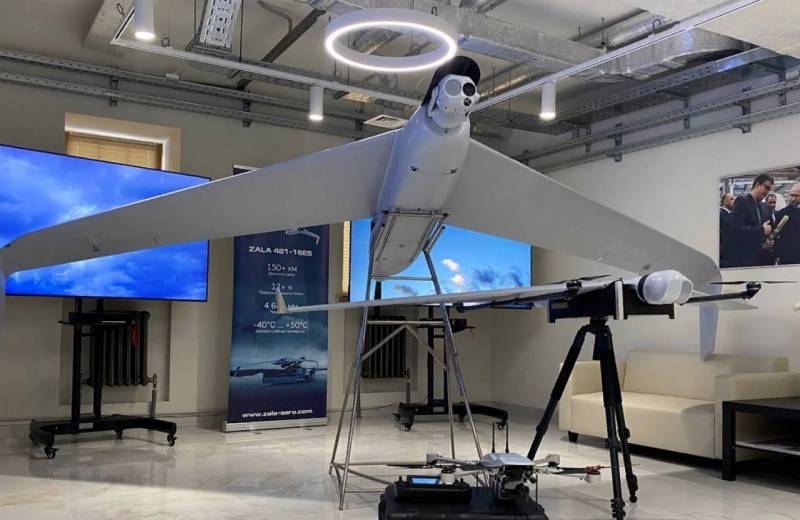 The new aerodrome-based reconnaissance drone was developed by ZALA AERO, a member of the Kalashnikov Group of Companies. The UAV was presented during the ZALA EXPO exhibition in Moscow.
The presented drone under the designation ZALA 421-16E5G is designed for reconnaissance flights at distances exceeding 100 km. The equipment installed on the UAV allows recording and transmitting high quality images. The drone is equipped with an HD thermal imager and a 60x FullHD video camera. The installed on-board computer with AI elements provides video navigation, object recognition, full radio silence, recording of all communication channels and online decryption.
The aircraft-type drone is equipped with a hybrid power plant, in which the internal combustion engine feeds the starting generator and the battery, which ensure the operation of an electric motor with a pusher propeller, which led to a quiet flight. One battery charge lasts for 1 hour. The declared time spent in the air is up to 12 hours.
The drone shown, although announced as possible for use in the Russian army, is most likely more suitable for use in the civilian sphere. Despite its characteristics, it is too expensive, and the army needs cheaper and mass-produced drones capable of performing reconnaissance functions and the loss of which will not be so noticeable. At the same time, many companies working in the north of the country will gladly purchase such a drone for monitoring, for example, pipelines, etc.