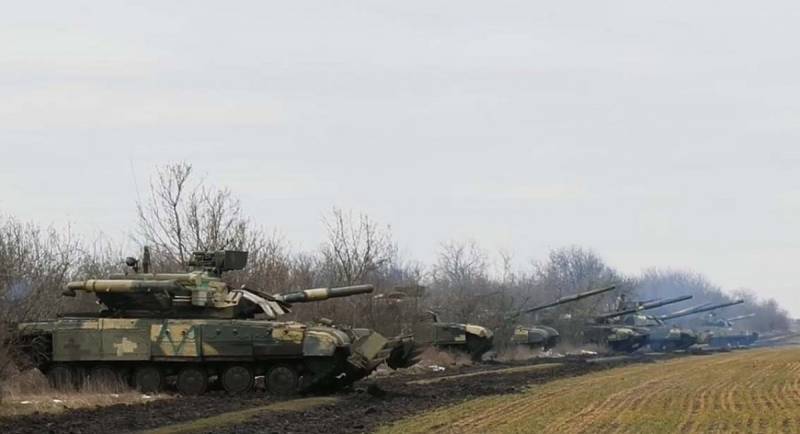 The Armed Forces of Ukraine held regular military exercises near the Russian border. Traditionally, this happened near the Crimea. The exercise was announced by the press service of the Ukrainian Ministry of Defense on Facebook.
According to the legend of the exercises, the "aggressor", by which Russia is understood, with the help of a tank subunit, supported by infantry, rushed into the attack on Ukrainian territory, trying to break through the defenses. At this time, the forces of the Armed Forces of Ukraine, performing combat missions on the border of the "temporarily occupied territories", moved to predetermined areas to counter the enemy.
Anti-tank 100-mm guns MT-12 "Rapier" and
tanks
T-64BM "Bulat" the offensive of the "aggressor" was stopped, the enemy tanks were destroyed.
According to the commander of the joint forces of the Armed Forces of Ukraine, Lieutenant-General Serhiy Naev, tank and artillery units "train in conditions close to combat."
One can only guess where all those 28 battalion tactical groups "ready to attack Ukraine" that Ukrainian intelligence counted at the end of March near their borders went to, if the "aggressor" went on the attack as part of one tank unit and infantry without air cover, the use of electronic warfare systems, as well as other weapons.
Note that the Armed Forces of Ukraine regularly conduct exercises near Crimea, while declaring that they are preparing for the "liberation of the occupied territory."