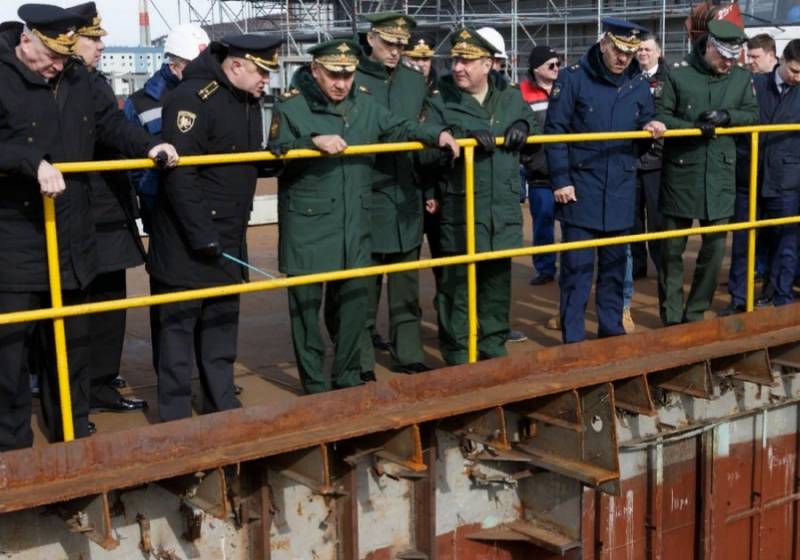 The head of the Russian Ministry of Defense, Sergei Shoigu, was dissatisfied with the pace of construction of a dry dock on the territory of the 35th shipyard in Murmansk.
The Minister of Defense, who visited the Northern Fleet with an inspection, at the same time inspected the construction of a dry dock at the 35th shipyard in Murmanka, intended, among other things, for the docking of the aircraft-carrying cruiser Admiral Kuznetsov. Shoigu noted the insufficient pace of construction and stated the need to build up forces and resources to complete the work on time.
At the same time, he did not accept the explanations of the USC management about the unfairness of the first contractor, due to which there is a lag in the work schedule. The minister demanded to hand over the object on time.
All these explanations are not accepted. We need a dock, we need to repair and modernize the aircraft-carrying cruiser "Admiral Kuznetsov"
- he said.
Recall that the contract for the modernization of the dry dock at the 35th shipyard for docking Admiral Kuznetsov was signed in July 2019 after the flooding of the floating dock PD-50. The modernization itself consists in the reconstruction of two adjacent dry docks of the plant (one 187 m long and 28 m wide at the top, and another 236 m long and 30,8 m at the top, both docks have a bottom width of 22 m) into one large dock by demolishing the partitions between them. As a result of modernization, the largest dry dock in Russia will be created for the reception of large vessels and ships, which will have a length of 335 m and a width of 60 m on the bottom and 70 m on top.