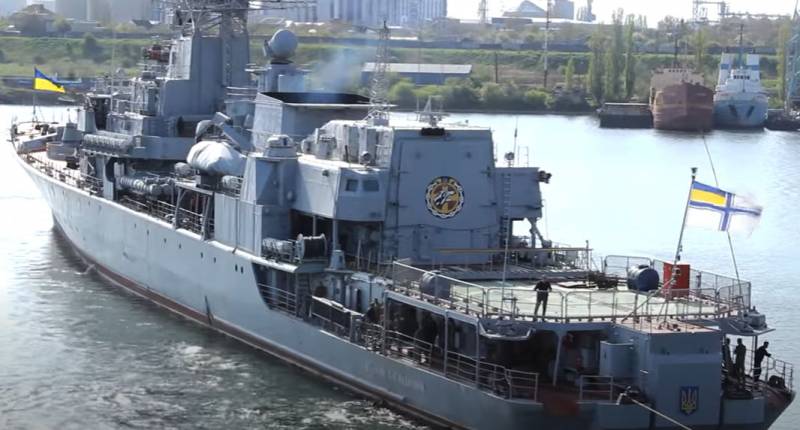 Ship of Naval Forces of Ukraine
The Ukrainian press publishes materials dedicated to the proposal of US President Joe Biden, addressed to Vladimir Putin. The day before, the American administration heard words that Biden was proposing a meeting and negotiations to the Russian president. Recall that this happened a few weeks after Biden insulted Putin in an interview with one of the TV channels, as well as after an invitation from Putin to talk online.
Kiev said that in the event of negotiations "Putin will try to start bargaining with the American president for Ukraine." In particular, the possible transfer of the negotiating platform on the Donbass issue from Minsk to some other city is being discussed. In particular, there are suggestions that it could be Vienna, Ankara or Belgrade. This opinion was expressed by the former Foreign Minister of Ukraine Pavel Klimkin.
According to Klimkin, "Russia will face strong sanctions for meddling in American elections," as Joe Biden will talk about. At the same time, the former head of the Ukrainian Foreign Ministry is confident that now Putin can "respond to the Ukrainian direction."
Mr. Klimkin:
Russia in its blackmail is ready to go further. I do not want to speculate, but everything may not be limited to Donbass. Russia will try to cut off Ukraine from the Black Sea. Russia wants our surrender.
Echoing the rhetoric of the past several years, Klimkin announced that "Russia can invade from both the north and the south."
We will remind that earlier in one of the Western editions there was a material in which the author discussed "the difficulties for the RF Armed Forces in the event of a possible attack from the Crimea." The Western author then stated that "an offensive can lead to difficulties, since you will have to overcome the Sivash."
Returning to the statement of Pavel Klimkin, it is worth noting that the former foreign minister of the "Independent" pointed out that "Ukraine wants to know the position of the West on support, and therefore is waiting for Zelensky's meeting with Merkel and Macron and the results of this very meeting."