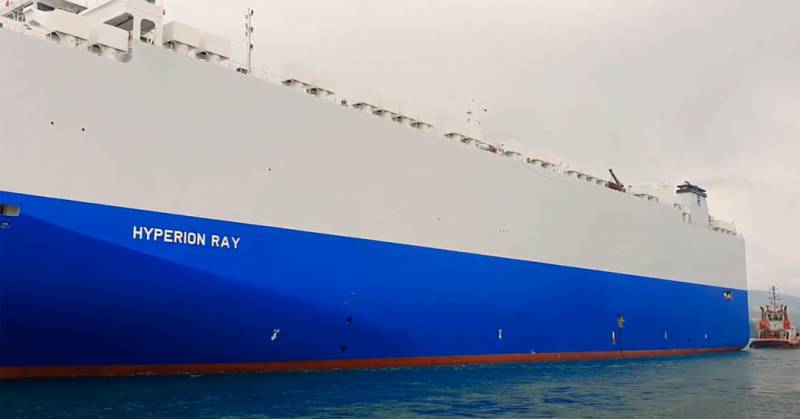 News agency reports say that the Israeli ship Hyperion Ray came under rocket fire in the waters of the Gulf of Oman. The attack on an Israeli-flagged vessel reportedly took place near the port of Fujairah, United Arab Emirates. According to the latest data, there are no casualties or injuries on board the Hyperion Ray, which transported cars, as a result of the ammunition hit. The Arab media stated that the ship itself received minor damage, which did not interfere with its further movement.
It is noted that the ship "was attacked either from an unmanned aerial vehicle or from a ship."
At the same time, the American media note that the incident has not been officially confirmed at the moment. However, there is an increase in the activity of warships in the Fujairah region. For example, it is said about the appearance in the square of a probable incident with the Israeli ship of the Belgian Navy ship "Leopold I".
It is indicated that Israel is accused of "firing missiles on Iran." Statements appeared in the reports suggesting that "a missile attack on an Israeli ship could have been a response to the Natanz incident." It is worth recalling that a few days ago, problems arose at this Iranian nuclear facility, which in Iran itself are associated with the activities of hackers of the Israeli special services. In Israel, they write that at the Natanz facility, the Iranians were enriching uranium "before
armory
quantities ". Now, it is said, the facility will be able to restore its previous work no earlier than in a year.
If the allegations of a missile attack on an Israeli ship are true, as well as the fact that it was an "Iranian response for the Natanz facility," then this response can hardly be considered symmetrical.