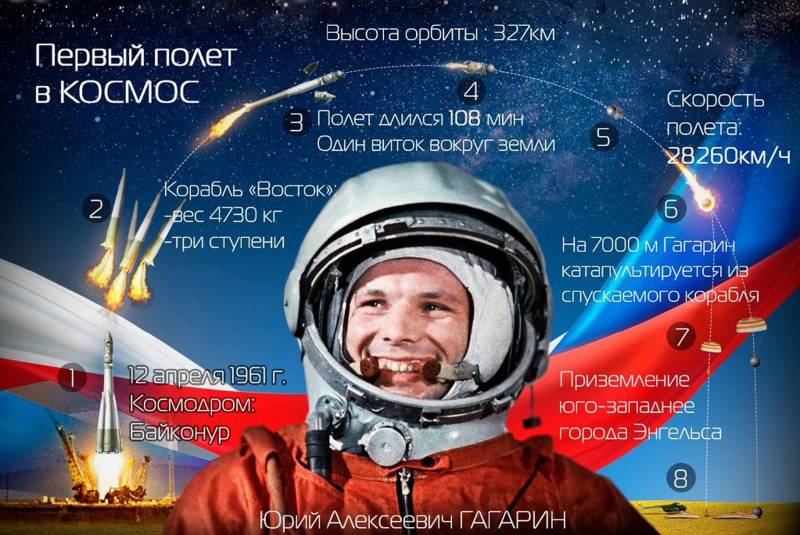 "Holidays are over, everyday life has caught up with us ...". It is difficult to come up with a better epigraph than the words of Dmitry Revyakin. The celebration of the next anniversary of the beginning of the space age is over. And it took place under the refrain "We were the first." Billboards at all corners reminded of this, and television did not stand aside.
Were
This is the key word. We were the first. And now, when we are not second or even third in space, the word "were" sounds more and more offensive.
I specially looked at foreign publications. Quiet everything is so. Yes, in some places they remembered Gagarin. No hysteria. Well, yes, it was. Go ahead.
Only neighbors-Ukrainians amused, having arranged a mass hysterics on the topic "where would these Russians be without our Queen". It was really funny, but it made me think. We are about the same trying to poke our primacy in the face of the whole world, as the Ukrainians are to us with Korolev. It's sad.
In general, the space race is a difficult thing. Akin, by the way, to boxing. In it, the championship must be confirmed constantly. Otherwise, you are not a champion, but an ex-champion. One of a long line going into
history
... There can only be one champion.
So Russia is now nothing more than such an ex-champion. And even dubious. Since the first were citizens of a completely different country. Succession is, of course, great, but ... It looks like (another ugly analogy) for the Cossacks, who do not consider it shameful to cling to the awards of their grandfathers. With space, we get about the same thing. We can't imagine anything ourselves, so at least we will adorn our grandfather's orders.
But until recently, until 2015, Russia was still the leader in space launches. And even a monopolist. However, the grandfather's inheritance, as practice shows everywhere, is being eaten up very quickly. Although in our case the backlog was such that it was enough for both the nineties and the beginning of the two thousandth.
But then the space race ceased to be such.
By the way, in fact, trillions of different currencies spent on it is wonderful. The space race turned out to be akin to the Olympics. It is also politicized. Victory in space is no worse than winning the Olympics, only it was more expensive. But in terms of prestige ...
Agree, than to go together to the Third World War and beat yourself up with rockets to the end of civilization, the countries of the two camps moved their confrontation into space. Although military experiments have not been done there, so far technology does not allow, everything is relatively calm in space. Even today it is difficult to imagine space wars, although, they say, some countries are ready for this. To hit someone else's satellite from an airplane with a rocket, to burn schemes with electronic warfare and stuff like that. No blasters - and thank God.
And here you understand that Space with a capital letter is not only a huge number of launches on rockets and ships, created half a century ago by people who have already left us. This is real daily work on new projects.
And this is where the Sadness begins. Also with a capital letter, because there is nothing to boast about 60 years after the beginning of the space age.
The most notable and noisily discussed development on the air is, of course, "Angara". A new launch vehicle, the development of which cost the country 160 billion rubles. The figure was not invented, from Vladimir Popovkin, who was in command of Roscosmos at the time.
So, "Angara" is kind of an undoubted achievement. The trouble is that launching it costs twice as much as the archaic and criticized Proton. And they know how to count money all over the world. And if today there are still people willing to use Protons, then it is somehow illogical to pay twice as much to put a satellite into orbit.
Of course, the commercialization of space is a serious thing, but when it comes to billions, it is clear that the price is just as important a factor as the reliability of the delivery vehicle into orbit.
And here the eternal monopoly established by the USSR and the USA, alas, was broken. Today, many countries are trying to save money and make money at the same time on launches. And that's okay too.
Abnormally different. It is not normal that Russia is losing today. And, unfortunately, it loses not only to countries such as the United States and China, but also to the private shop SpaceX, which generally begins to put the whole world on its ears with its prices. And it launches an incredible number of rockets into space at incredible prices.
And what about us? And in response to Rogozin's jokes on Twitter. Yes, of course, humor is good, but the trouble is, rockets do not fly on jokes. And you can humor as much as you like, but the space race is won by completely different moves.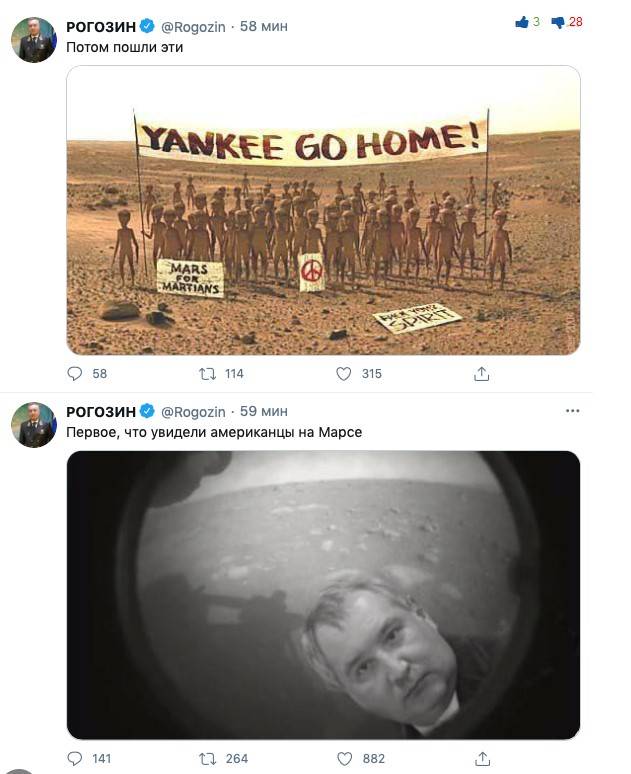 Through commercial programs for those who want but cannot, for example, launch their own satellites. It doesn't matter, weather, communications, internet, military. All countries need satellites, except perhaps the most backward ones.
And today, three-quarters of the world's cosmonautics or astronautics consists of just such commercial launches. That is, in the interests of a private client. The states, of course, must also invest in full, but they are far from the private sector. Navigators, various geodetic devices, radio, telephony, Internet, private television - all these are space programs of private users.
In terms of numbers, the cost of a satellite group in the commercial sector is up to 60% of all costs of commercial space exploration and up to 45% of the global space budget. In general, commercial astronautics is all about entertainment on Earth, not space.
Space exploration, flights to space bodies - this rests on the shoulders of the states participating in space programs. And here, too, everything is not very beautiful for us.
State space budgets total $ 84 billion a year. This is a quarter of all the cosmic waste of mankind. A kind of figure showing that the cost of spending on entertainment is much higher than spending on real space exploration.
Among the leaders in terms of spending, places are distributed as follows:
USA - $ 47,5 billion.
China - $ 10 billion
European Union - $ 10 billion
India - $ 4,2 billion
Russia - $ 3,6 billion
Now we have the sixth place. Unfortunately not honorable. This is just over one percent of the world's total space spending.
Now it is probably clear why there are only pleasant memories of 108 launches in 1982? Because in 2020 we mastered only 17. And for the period from 2015 to 2020 inclusive, Russia made 102 launches. That is, it is still less than the Soviet Union did in 1982.
Sad statistics. But alas, this is a fact. And it will only get worse, since not only is SpaceX dumping prices in the global space launch market, but also the US government has launched an attack on the space launch sector, planning an embargo on Russian launch vehicles from 2023.
This is not entirely clear, but in a nutshell, it will look like a breakdown in the sale of "Russian" Sukhoi Superjet 100 aircraft to Iran. There, if you remember, the deal was blocked due to the presence of American components. And since our "import substitution" could not replace more than 50% of imports in the Sukhoi Superjet 100 design, Iran will buy Boeings, with which there are no such problems.
In the case of launch vehicles, everything will look about the same. If the satellite has at least one microcircuit or board made in the USA, then America prohibits launching such a satellite on a Russian carrier. As the saying goes, "Velkom tu Elon Musk, his is cheaper and more reliable."
And with this "Roskosmos" in general and Rogozin in particular will not be able to do anything. Alas.
It's funny, but "Roskosmos", which Mr. Rogozin so successfully rules, simultaneously singing songs and joking on Twitter about the successes of the Americans, was created in the very year 2015, when the fall of the Russian space industry began.
Coincidence? Maybe.
Yes, before Roscosmos there was the Federal Space Agency, which was collected from what remained of the Soviet legacy in Russia. And they put Dmitry Rogozin in charge of the structure.
So much has been said about the head of Roscosmos that there is no point in repeating it. And so everything is clear.
The failed politician has made good progress in issuing loud and extraordinary statements "on the mountain". Here is a proposal to the States to launch astronauts to the ISS using a trampoline, and a promise to the Romanian authorities to return at the helm of a bomber, and a proposal to the European Space Agency to fly on brooms. But the most epic, perhaps, was made in 2018, when Rogozin stated that astronauts had checked the hole in the ISS hull.
But how Rogozin "works" on Twitter is known and so, I repeat. It probably makes sense to see how Roscosmos works under his leadership.
During the period from 2009 to 2014, the Federal Space Agency made at least 30 launches per year. The exception was 2012, when there were 24. Commercial, state-owned - not so important. It is important that there were launches.
Since 2015, it has never been possible to make 30 launches in a year. Since the appearance of Roskosmos instead of the FKA, the curve of the number of launches has gone down.
And if you look at the dynamics since 2018, when Rogozin began to steer, then by 2021 there were a total of 62 launches.
For comparison: the USA had 89 launches in the same time, China made 112.
There is, however, one positive figure: in these three years there was only one unsuccessful launch. On the one hand, this is great. On the other hand, it is clear that the fewer launches are carried out, the less the possibility of an accident becomes.
But accidents are quite normal, they happen to everyone. The question is solely in the quantity, which indicates the quality of the work.
How many billions of dollars have already flown into space, or rather, scattered into the debris of accidents at Roscosmos, you can calculate, but not necessary. Accidents do happen.
But sooner or later they will calculate how many billions flew into the black hole of the Vostochny cosmodrome. Here, everything is well illustrated by the data of the General Prosecutor's Office of the Russian Federation, which speaks of 140 criminal cases opened on the facts of violations during the construction of the cosmodrome and the damage figure of 10 billion rubles.
Not bad so.
And in general, the statistics for Vostochny are more than sad. To spend 300 billion rubles on the first stage and to make SEVEN launches from the cosmodrome in five years - what is it like?
This is true. This is in Russian. The money has been spent, but when it comes to having it worked out and returned, it's like in Russian cinema. Very difficult.
It is clear that sooner or later, in 10-15 years, the Vostochny cosmodrome will be brought to mind. Vbahav into it another 300-400 billion. And the launches will start with it. Provided that there will be something to launch.
But for some reason, there are doubts about what will be launched. All too quickly Russia has lost its piece of the cosmic pie. Moreover, no one took it away, they surrendered without a fight. When money from the same Americans who had stopped their Space Shuttle program flowed into the Roscosmos cashier's office, for some reason the dollars did not go to the good. New missiles, more economical and reliable, more environmentally friendly or something, did not appear ... New ships did not appear.
Yes, Mr. Rogozin had a lot of stuff about brooms and trampolines, there was a lot of joy. But now Elon Musk's developments have appeared, and how they appeared ... Of course, we had Rogozin's followers who spoke on the topic "That's when ... then we'll talk", but "when" became "today" and there is nothing more to talk about than the fact that in 2010 Russia carried out 43% of launches, and in 2020 8,5%.
As they say - comments are superfluous.
And if we talk about the fact that a ton of cargo launched into orbit by the ancient "Proton" costs 2,8 million dollars, and a ton on the "Falcon" Mask of 1,4 million of the same dollars, then it becomes clear why Russia began to lose its positions so rapidly in the commercial sector.
Nothing personal just business.
It is possible that SpaceX will also take away from Roscosmos and launch people into orbit. On May 30, 2020, exactly what happened that did not believe in Roscosmos. But two people were flown by the Crew Dragon to the ISS. And Russia's almost ten-year monopoly on the delivery of crews to the ISS has ended.
So much for the trampolines with brooms. And there is nothing to oppose at all.
In principle, all that we are seeing now is unsubstantiated conversations that "in 20 .. we are ...." and further down the list. We will launch our orbital station, fly to the Moon, build a city on the Moon, fly to Mars and Venus, and so on.
What can I say, in 2020 they officially announced the start of work on the creation of an interplanetary automatic station, which will fly to Venus in 2029.
Who there in 2029 will remember what they promised in 2020, right?
Even if Medvedev, who was still prime minister in 2019, said that "Stop chatting about where we will fly in 30," then what to say about those who understand what's what? And Putin last year also spoke out about the disruption of the development of the heavy missile "Yenisei" ...
The first satellite, the first living beings in space, the first manned flight into space, the first spacewalk, the first launch of an apparatus that reached the Moon, the first group flight with a docking, the first woman in space - all these are the achievements of the Soviet Union, whose successor is sometimes proud of himself called in Russia. But for some reason, against the background of those achievements, Russian cosmonautics does not look at all. Well, or looks like a poor relative who has passed the remnants of its former greatness.
And when, in March 2021, the head of the Accounts Chamber, Kudrin, reported that 30 billion had again been stolen from Roscosmos ...
We talked a lot, and apparently we will still talk a lot about the fact that something needs to be done in the Russian cosmonautics. It's not too late. All is not yet lost. Although from year to year there are more and more conversations in the style of "Forgive us, Yura!".
But the fact is, yes, the space that was so close is getting further and further. And you know, it's probably good that neither Yuri Alekseevich nor Sergei Pavlovich will see what is happening in their former homeland. Our shame and shame is our business. And they did everything. what they could and even a little more.
Yes, once we WERE the first ... And what's the point?