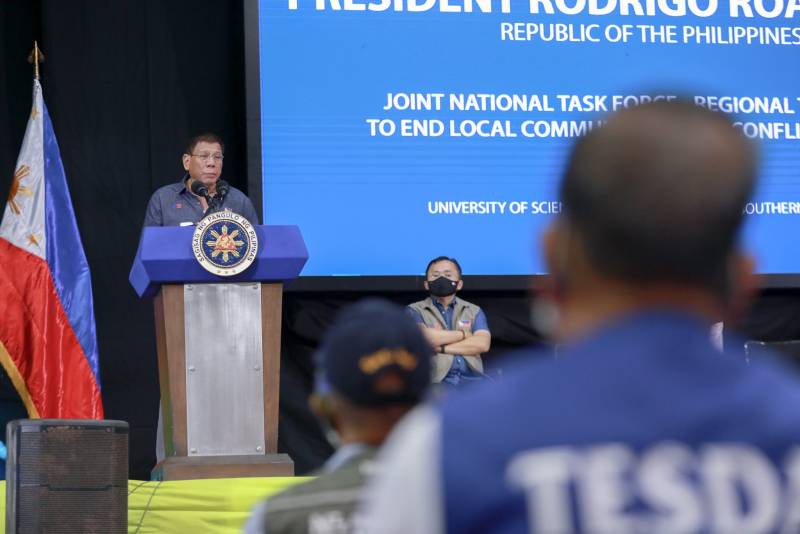 In the Chinese press, material is released, which discusses the joint exercises of the US Navy and the Philippines. A few days ago, statements were made in the United States in which it was openly stated that the exercises were anti-Chinese in nature. In particular, it was pointed out that the United States "will continue to provide assistance to its allies, preventing China from occupying the disputed archipelagos in the South China Sea." First of all, we are talking about the Spratly archipelago, which is called Nansha in China.
It is important to note that a few months ago, Beijing and Manila discussed the possibility of joint economic activities in the archipelago, which seriously eased tensions between the two countries, which took place precisely in connection with disputes over the ownership of the archipelago.
The Chinese media noted that it was Beijing's constructive dialogue with the Philippine authorities that irritated Washington. There, according to the PRC, they are making every effort to drive a wedge back into relations between the Philippines and China.
At the same time, the Sohu portal discusses an issue that attracts attention. The Chinese author writes that Manila's relations with Beijing suddenly deteriorated sharply, noting - "for no objective reason." In the military-thematic section of the Chinese information resource:
Noteworthy is the fact that since the end of March there has been no information about the President of the Philippines, Rodrigo Duterte. He last performed in public on March 29th. On April 7, he was supposed to make a planned televised address, but the event was canceled for unknown reasons. This is an extremely rare case.
The Chinese author writes about a strange coincidence: a joint exercise with the US Navy in the Philippines was announced after the "disappearance" of President Duterte. Rumors about the "disappearance" of President Duterte have been circulating in the Philippines for at least a week.
Against this backdrop, Filipino Senator Christopher Go posted a post on social networks stating that Rodrigo Duterte is healthy. Guo posted images of the President of the Philippines playing golf and running around the presidential palace while playing sports. Previously it was assumed that Duterte could get sick. But the senator claims that everything is in order with the president at the moment.
Filipino media writes that Rodrigo Duterte announced his reluctance to get vaccinated against covid.