I'll start with the platitudes. The Navy is a part of the armed forces that has its own tasks and functions within the framework of a unified defense planning.
I will continue with another commonplace. IN
stories
Russia has repeatedly forgotten about this. And they built a fleet for the sake of
fleet
... And ships. Because the Germans (British, Americans) have such. This disease is not only ours, many suffered from this disease, planting astronomical budgets in ships that serve as yachts for presidential kings, or as a kind of symbol - they say, we are oceanic too, we can too.
Meanwhile, the range of tasks that the Navy is capable of performing is narrow and simple:
1. Protecting its coastline and its maritime trade and fisheries.
2. Attack of another's coast, disruption of its trade and industries in case of war.
3. The projection of force in the form of amphibious operations and the demonstration of the flag in third world countries.
4. Restraining factor in politics.
The XNUMXth century added to this list the task of covering the NSNF of our own and the attack of the NSNF of aliens. But this is not for everyone, but for a narrow circle of nuclear powers. Moreover, not all of them can afford this luxury: it is expensive and very difficult.
And the only measure of efficiency is wars / conflicts / crises and how the Navy fulfilled its tasks during their period. It is about the tasks in the global sense, not about the pre-war plans. The pre-war plans have one peculiarity - they are never implemented, at least in full, at most - in general. Russia in 1904-1905 is an example of this approach. With a huge fleet of battleships, a horde of cruisers, and a flock of destroyers, the Russian Imperial Navy did not fulfill a single task. The enemy carried out amphibious operations, disrupted our communications, was able to defend its territory and did not perceive our fleet as a deterrent.
But the small and frail Soviet Navy fulfilled its task during the Cuban missile crisis. They transported what they wanted to Cuba and created a threat to the United States. In the end the rattling
weapons
managed to translate into bargaining, and bargaining - in a gradual relaxation of international relations. The rest, in fact, details - how many rivets were in the battleship "Eagle", the speed of transports from ICBMs in 1962, the diameters of the pipes of the admiral's latrines, and so on. This is interesting, of course. But by and large it does not affect anything.
No, in a war, say, between Poland and Germany or the USSR and Finland, performance characteristics and types of ships are important ... for small ones. You can build a powerful coastal defense and shelter your ships from air strikes, like the Finns, than still create unacceptable risks of an enemy landing operation. Or you can draw a beautiful plan for the leaders' raids on Kronstadt, build these very leaders and knock them down before the war begins, because in this sinful world such raids are impossible, and if you don't have your own air force above your head, you won't go out to sea - they will drown like kittens.
For the same Soviet Navy, the problem was not so acute - keep the Red Army Baltic and our boats and submariners would go on raids on the communications of the Germans. Didn't hold back? All the same, the fleet came in handy - for the defense of Tallinn and Leningrad. The more varied the composition of the fleet, the more opportunities there are. But again, this is only available to the big and the rich. The United States put them on battleships in the interwar period, and when it got tight, they built an aircraft carrier fleet. And not only aircraft carrier - torpedo boats, submarines, sea
Aviation
... In England, they were preparing for battles with surface German raiders, but when they pinned down, they found weapons against German submarines, setting up clouds of escort ships. And the Germans ... There was a surface fleet, but it became underwater, and in mind-boggling quantities at that time.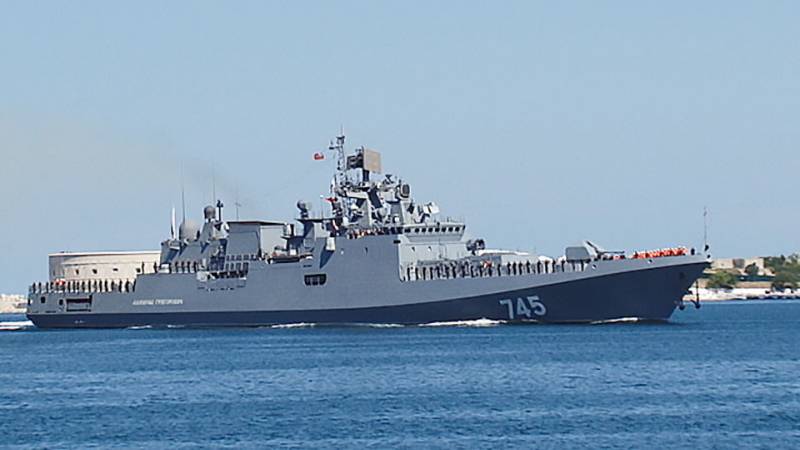 What is today's Russia?
Defense Minister Sergei Shoigu at the final collegium of the military department with the participation of Russian President Vladimir Putin said that the military budget of the Russian Federation in 2020 will fall to ninth place in the world, while in 2019 it was in eighth place. At the same time, the US military budget in 2020 will reach almost $ 750 billion for the first time, which can be compared with the combined annual military budget of all countries.
We are a country, of course, strong and powerful: both on land and at sea, but not the most advanced, as in the days of Gorshkov. If about new ships and only the latest generations, then the Russian Federation has five frigates, eight corvettes, three patrol ships, two large landing ships and other trifles.
Under water, of course, everything is more fun - 3 SSBNs and one SSGN. With diesel boats ... not bad - 9 ships. True, one of them is rather experimental. Everything else is a Soviet legacy. Of course, many different things are being built. But the fact of the matter is that in a series of endless crises, into which world politics has turned, a demonstration of force may be needed here and now. And the ships on the slipways somehow do not frighten. You can remember the old ships, of course - we have a lot of them, but their era is leaving, and the combat value is often questionable.
Again, this is neither good nor bad, it turned out that way. If you don't build anything for 20 years, then the result will be appropriate. If you do not have the necessary means and goals, then why chase the unattainable?
In this sense, we have just chosen a reasonable strategy: the priority is to protect the coast and renew the NSNF, and the ocean zone ... There is enough to display the flag.
Of course, not without kinks. Of course, it staggers. Definitely, sailors and shipbuilders want aircraft carriers, nuclear destroyers and, in general, so as to defeat the "insidious NAT" on the seas, but ... Why? Nobody believes in a non-nuclear war, but in local conflicts it's enough.
Ideally, of course, you would need:
1. To preserve the aircraft carrier component at all costs. For this, "Kuznetsov" is suitable as a combat training ship, especially since there are no options. At the same time, he needs a replacement - one, maximum two aircraft carriers, preferably light ones. We will overstrain from more, we will not pull. And so, having saved the school and touched off, over time we will be able to turn around, if need be.
2. I personally do not see the problem of escort - it is necessary to complete the "Nakhimov" and modernize the "Petra". "Atlantes", of course, are already finalizing their time - it is inexorable. But again, for the study and demonstration of the flag of the pair of "Eagles" - behind the eyes.
3. NSNF is being built here. For me, this is even too much. Taking into account the restrictions on START-3: it is better to have more complexes on land and fewer in the sea, where it is almost more difficult to cover them. But with multipurpose ... They need more and simpler. Severodvinsk is an attempt to create a kind of goldfish, unique, but expensive, and therefore few in number. There are no problems with diesel - we build quickly and cheaply. True, this is not a new, to put it mildly, project, but better than nothing.
4. Destroyers? But no. Again, no money, no technology for Leaders. It remains to be hoped that the super-Gorshkovs will be released by the shipbuilders. In the meantime, it would be worthwhile to focus on the corvette frigates. But without wobbling between projects and searching for the next "unparalleled". As one Soviet politician used to say, "Don't do better - do as they do."
5. Well, MRK, MDK, minesweepers, coastal defense complexes and naval aviation. Where can we go without them? Plus a floating rear, which is still to be developed and developed. Our problem with this is chronic and traditional.
6. Amphibious forces? For me, it's better to be simpler. Expensive and sophisticated BDKs and UDCs under construction are good. But, as Syria has shown, the main thing is not to protect, the main thing is tonnage, and we have problems with it. The situation when it is necessary to supply a huge group is not uncommon, but quite a routine. And when you have to buy and rent old civilian ships all over the world, it's a shame.
And the main thing. So that the military fleet was needed not for parades and demonstrations of superpower, we need a merchant fleet, a fishing fleet, bases around the world and a powerful industry. Then the ocean ships will be in demand, and then there will be money. And chasing the United States or China just "so that it was" is the sure way to a new Tsushima or the cut of the 90s. We will not catch up and go bankrupt, there are many examples in Russian history.