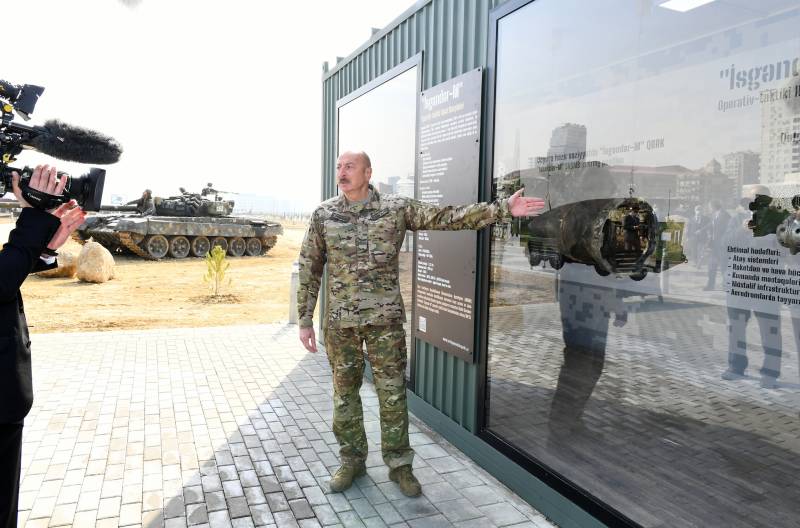 President of Azerbaijan Ilham Aliyev today held a ceremony of opening a park of war trophies, which were obtained by the Azerbaijani military during the war in Nagorno-Karabakh. The most resonant exhibit is the wreckage of the rocket, which Aliyev himself called the wreckage of the Iskander-M rocket. This information is also reflected on the stand. According to the President of Azerbaijan, these missiles were fired at the city of Shusha by the Armenian side.
During the opening of the military trophy park, Ilham Aliyev said that "he is waiting for an answer to the question of how Armenia got the missiles that it should not have."
Aliev:
We are waiting for an answer to the question of how these missiles, Iskander-M missiles, ended up in the hands of the Armenian army.
At the same time, the Azerbaijani leader did not specify from whom exactly this answer he expects.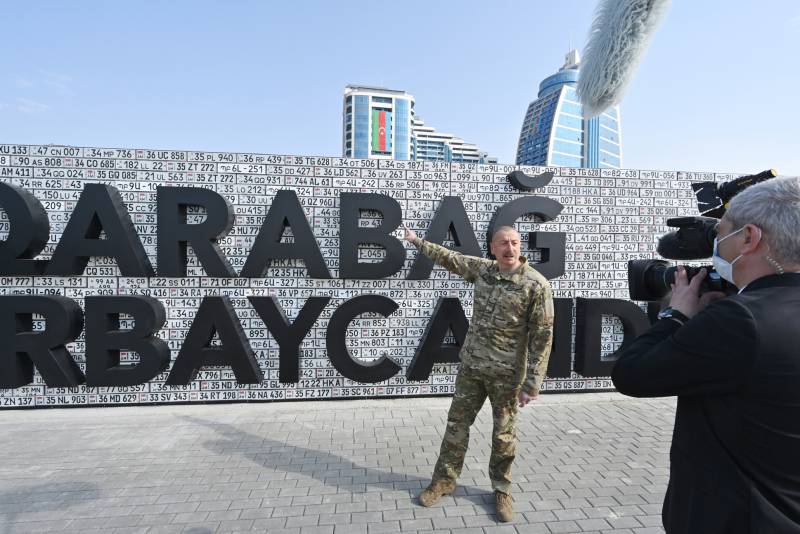 Against the background of trophy Armenian license plates
A few days earlier, when information about the Iskander-M missile debris at the disposal of the Azerbaijani troops began to be actively circulated in the press and the blogosphere, the press secretary of the Russian President Dmitry Peskov said that the Kremlin did not have information on this matter.
Earlier, Armenian Prime Minister Nikol Pashinyan said that "the Iskander missiles showed themselves in an inappropriate manner." Then, according to Pashinyan, they "worked by 10 percent." These words of the Armenian prime minister caused a scandal, after which he said that he was "misinformed." It is noteworthy that at first such a formulation was used in a presumptive manner in the General Staff of the RF Armed Forces.
Returning to the statement of Ilham Aliyev, it should be noted that the Azerbaijani president stated that Baku had data "where did the Armenian troops get the missiles from". At the same time, Aliyev pointedly added that the Azerbaijani authorities "will wait for official explanations."
A few photos from the opening of the war trophy park: