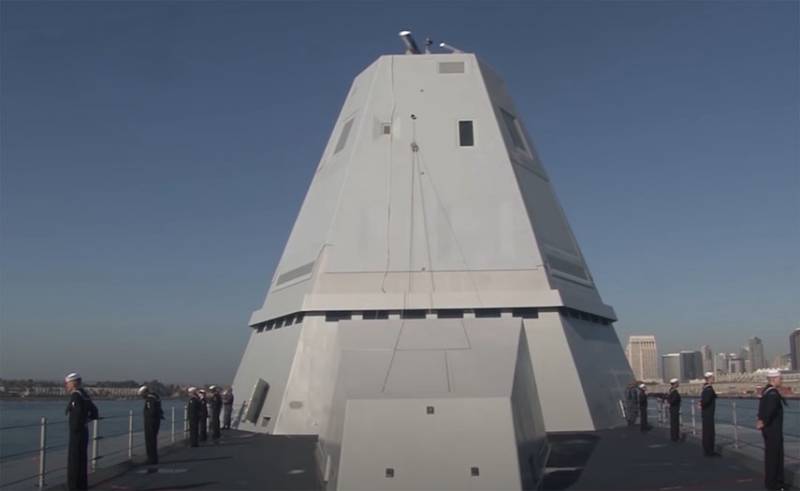 The American stealth destroyer USS Zumwalt is in the final stages of preparation for maneuvers. They will take place in April.
The American military command has decided to conduct a naval exercise, during which the latest destroyer of the Navy is to act as a command ship and a mobile command post for marine drones. This is another direction in which they are trying to find an application for a super-expensive warship.
Recall that initially the US Navy designated Zamvolt-class destroyers as strike weapons on which it was planned to install electromagnetic guns. The planned order was 32 such destroyers. As a result, it was decided to reduce it to 4 ships, realizing that the final cost of the Zamvolts could exceed all reasonable limits. At the moment, the Pentagon buys such ships from manufacturers at a price of more than $ 4 billion per unit. To buy - buys, but cannot find a specific use for them.
United States Navy Command:
The destroyer Zumwalt will go on a multi-domain operations exercise. We plan to use it as a floating command post, which will coordinate the activities of various types of marine drones and control them.
At the same time, it is noted that "at the moment the most optimal data exchange protocols between marine drones and a stealth destroyer are being studied."
In this regard, there is a reason for discussion. Experts point out the following factor: when exchanging data in real time between Zamvolt and sea drones, regardless of protocols, the meaning of the stealth characteristics of a combat ship is lost. With effective equipment, the signals can be tracked, and ultimately they will also increase the likelihood of determining the exact location of the USS Zumwalt at sea in the event of a real combat operation.
After receiving its coordinates, it will be enough to select a suitable rocket armament, which will simultaneously solve several problems: it will be able to destroy the stealth destroyer itself and will lead to de-coordination for naval drones, which were given commands from the ship.