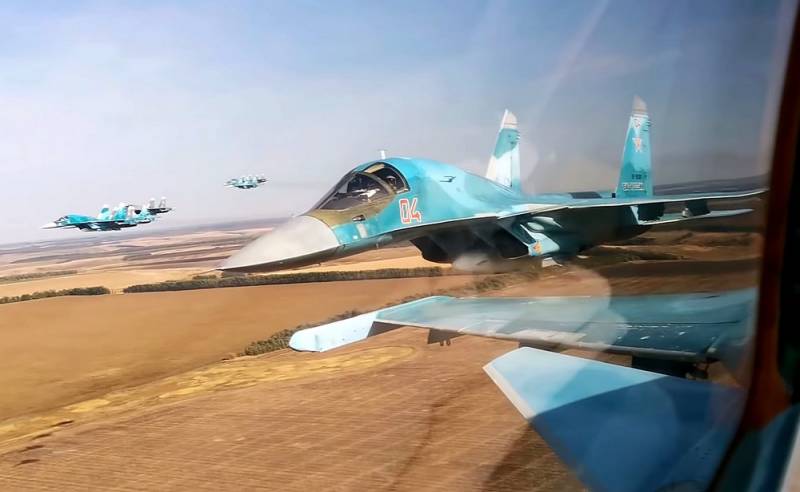 Russian front-line bombers Su-34 have significantly expanded their combat capabilities by installing new suspended universal reconnaissance containers. This will be reported
RIA News
citing a source in the aircraft industry.
According to the publication, we are talking about combat aircraft on which universal suspended containers are installed. How much the Su-34 received the new equipment, the source did not specify, stating "several planes."
According to him, three types of containers are installed on bombers: for optical-electronic reconnaissance, radar and radio engineering. The new equipment not only increases the aircraft's ability to detect targets, but also allows them to automatically transmit their coordinates to ground forces.
Earlier it was reported that as part of the modernization of the SU-34, they will receive suspended reconnaissance containers. In addition, the aircraft will significantly expand the range
aviation
means of destruction. In the future, it is planned to modernize the entire Su-34 fleet to the level of the Su-34M.
To date, according to open sources, more than 120 Su-34 are in service with the Russian Aerospace Forces.
Su-34 is a Russian multifunctional fighter-bomber, designed to attack aircraft by means of destruction at ground targets of the enemy in operational and tactical depth under conditions of strong opposition. It refers to the generation of 4 ++ and allows you to perform basic combat missions without escorting fighter jets. It uses long-range air-to-air and long-range air-to-air weapons with multi-channel applications. Equipped with a highly intelligent radar counter and defense system. Flight range - up to 4 000 km, maximum speed - up to 1 900 km / h, combat load - up to eight tons.