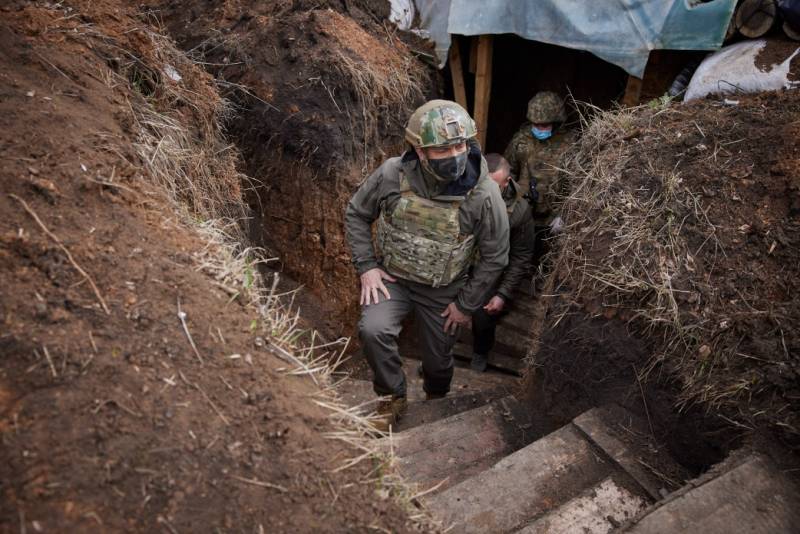 The office of the Ukrainian president commented on the situation in Donbass. Zelensky's spokeswoman Yulia Mendel said that "Ukraine does not plan to advance into uncontrolled territories." This statement was made by the press secretary of the Ukrainian president on the air of one of the television channels.
Mendel:
The president's team is convinced that peace can only be achieved through negotiations.
At the same time, Ms. Mendel said that in Kiev "they are reacting to the accumulation of Russian troops near the borders of Ukraine." According to her, "the president sees that about 40 thousand Russian troops have accumulated along the eastern borders."
Julia Mendel:
There are the same number in the occupied Crimea. We ask ourselves the question: Can Russia attack? Yes maybe. We saw this in 2014.
We will remind that earlier in Kiev they constantly announced the alleged presence of thousands of Russian military in the Donbass. Now they do not declare ...
According to Ms. Mendel, Kiev is assessing the situation soberly, but notes that there is no need to panic.
In the office of President Zelensky, they say that the head of state is "aimed at discussing the problem in the Normandy format - to achieve peace in Donbass." At the same time, Zelensky does not say when he is going to start fulfilling the responsibilities that the Ukrainian authorities assumed when signing the Minsk Agreements? Apparently never.
By the way, about the Minsk Agreements. As previously reported, Ukraine announced that it would no longer consider Minsk as a platform for negotiations. Kravchuk proposed to move the negotiation process to "neutral" Poland. After that, other proposals were made from Kiev to "replace Minsk" - Vienna and Stockholm.
The Belarusian Foreign Ministry rightly noted that Ukraine can transfer negotiations even to Antarctica, the main thing is peace in Donbass. But in this world, Kiev itself is not interested in the first place.