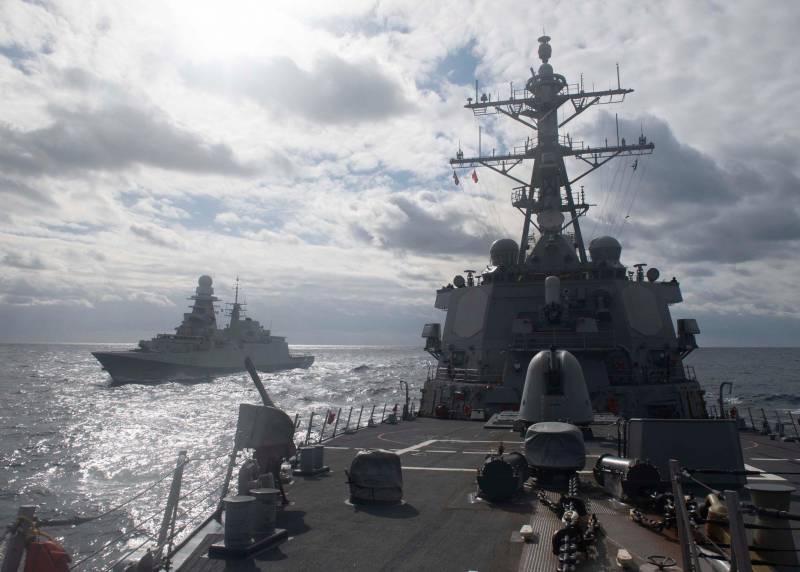 Two US Navy ships bound for the Black Sea currently pass south of the Italian maritime border in the Mediterranean Sea. Recall that the Pentagon announced the notification of the Turkish authorities that the warships will proceed through the Dardanelles and the Bosphorus and will be in the Black Sea water area until May 4. American sources said this was due to "Russian military activity on the borders of Ukraine."
Against this background, military experts are considering the question that the Black Sea for American warships is "not the best option to threaten Russia." First, you need to understand that Russia has impressive strike capabilities in the Crimea and the Kuban. Secondly, the stay of the ships of the non-Black Sea powers is limited in time by the Montreux Convention - therefore, the American command must constantly keep in mind the fact that within a few days after entering the Black Sea, its waters will need to be abandoned.
When in the Black Sea waters, US Navy warships turn into targets for Russian coastal missile systems and not only for them. Actions of submarines of the Black Sea
fleet
The Russian Federation is capable of at least depriving American ships of operational space - in the event of a direct threat to Russian borders from the US Navy. In such a situation, the presence of representatives of the American naval forces in the Black Sea turns not into a demonstration of force, but into a variant of targets locked from almost all sides.
In the American media, by the way, observers who understand the situation also note that it is hardly worth experiencing a feeling of euphoria about the fact that the US Navy ships are entering the Black Sea. The reason lies precisely in the fact that such ships in the event of an armed conflict can become "easy prey for the Russians."
Western experts:
The Black Sea is a Russian shooting range, and the two US Navy ships in it are easy targets.
Earlier, the American The Drive noted the total military advantage of Russia in the Black Sea.
It should be noted that not so long ago the US press stated that the task of the US Navy is "to demonstrate to Russia that the Black Sea is not its internal lake."