If an American were to read this article, he would probably just twirl his finger at his temple or as it is customary in America. Because in undemocratic and blinkered America, I mean, in the United States, no one would think of such a thing as PR maniacs, sadists and murderers.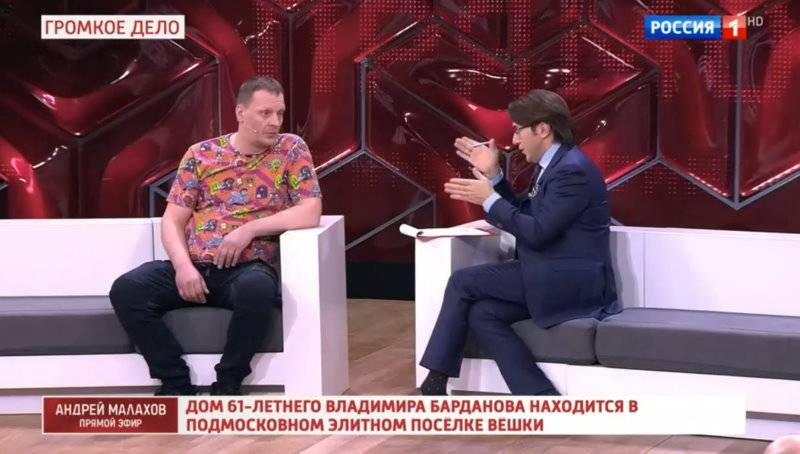 Source: "Russia-1"
Moreover, if someone decides that it is possible to arrange their career in the media in this way, this person will face a rather strong disappointment. You can talk a lot about the lack of freedom of speech in the United States, but with regard to some things - and it's great that this freedom does not exist.
In modern Russia, the opposite is true. And the ideas of BLM have also got accustomed to us, to our great regret. No one is buried in golden coffins yet, but this is what is - for now. Everything is moving towards that, or rather, everything is moving towards that.
If we talk about BLM and its usefulness in principle, then here I wanted to say that I do not mean the Black Lives Matter movement, but its counter-movement Blue Lives Matter, which promotes a slightly different strategy and tactics.
And in accordance with the ideas of the "correct" BLM, let's look at our reality.
Not so long ago, the miracle blogger Ksenia Sobchak, squealing happily, arranged an interview with the maniac. Who is serving his appointed time in remote places, but this did not stop Sobchak.
The material came out, the reaction to it, let's say, was ambiguous.
I absolutely do not support Sobchak's work, but I will note that a private video blogger, in principle, has every right to post anything on his channel, just not to go beyond the law.
The question of what to do with what goes beyond common sense, I leave on the conscience of those who come up with our laws.
So the maniac whom Sobchak interviewed were flowers.
And the berries came from Andrey Malakhov.
The former hyper brawler of Channel One, either removed from there, or really left of his own accord (in principle, it does not matter, he regularly receives his 50 dollars a month), now dug in on the second figure, that is, on "Russia-000" ".
"Russia-1" is the All-Russian State Television and Radio Broadcasting Company. State TV and Radio Channel. This means that 50 thousand dollars go to Malakhov's account from the budget. We, taxpayers, fill the budget.
As the saying goes, "he who pays calls the tune." But not in this regard. Here we have a completely opposite situation. Malakhov himself comes up with what he needs to show us.
And according to Malakhov, the entire Russian audience simply dreamed of learning about what a wonderful person Vladimir Bardanov was, who entered
history
as a "Mytishchi shooter".
The person who has collected at home a huge "collection" of illegal firearms
weapons
, who resisted the security forces, fired at them and threw grenades for 10 hours, is a "hero of our time", don't you think?
Thank God, Bardanov was drunk, otherwise there could have been more victims. One wounded security officer is not bad, although it would be better if there were no wounded at all.
The fact that after 10 hours of battle the security forces threw Zarya flash-noise grenades at Bardanov's house and, as a result, the owner burned down like a basement rat - this is a natural result.
If Bardanov was a law-abiding person, even looking back at his criminal past in the nineties, one could say something like that in his defense.
But a person who created a warehouse of illegal weapons at home under the cover of completely legal hunting units deserves a slightly different approach. And even more so, the person who used this weapon against the representatives of the law.
Yes, many claims can be made against our security officials. Much and deservedly so. But not in this case. The case with Bardanov is just from that opera, when a person had to be really isolated from society.
Indeed, in the photographs that were leaked to the Internet, knowledgeable people saw things that, to put it mildly, cannot be bought in a store. Czech Sa.26 submachine gun, PPS-43, SKS, RPK, AK, Kedr submachine gun.
The investigation has yet to find out the origin of the arsenal, as well as the huge amount of live ammunition and grenades. Even the fact that Bardanov had a business of providing services to private security companies, Kalash, PKK and grenades somehow do not fit well there.
And Malakhov decided to make this person the object of his transfer.
I give a standing ovation. And even an offer is ready to make. But a little later.
In the meantime, let's try to evaluate what Malakhov gathered in the studio the relatives and friends of the deceased. So that they could calmly cry about how kind and wonderful Bardanov was.
Just think, he cheated and cheated so that he was already put on the wanted list ... Well, think of it, he drank and fell into aggression while drunk ... But he loved children. His own.
It would be interesting to know why Malakhov did not call those SOBR officers into the studio who for ten hours tried to calm down the dispersed alcoholic? I have no doubt that SOBR employees also have children. Which they, the employees, love dearly. And for the sake of whose life they danced under the bullets of Bardanov.
Malakhov is somehow too one-sided. In half-shoes.
Here you have to think.
The state TV channel, which exists on budget money, devotes its air to an inadequate drunk and breaker of the law. Gathering a warehouse of weapons, prohibited for circulation of citizens. Who used it against government officials.
Malakhov can be congratulated. It seemed that this is it, the bottom of the Russian TV air has been broken, but no. There is an abyss. The abyss of immorality into which the state television and radio broadcasting of Russia continues to fall.
On the state channel, paid from the pocket of citizens (yes, I emphasize, this should be reminded to all of them more often), they protect and mourn the bastard who shot at the law enforcement officers. That is, in civil servants.
It really isn't the bottom. This is an abyss.
Meanwhile, if you look carefully, then television in general should show things that are interesting not only in informational terms, but also in educational terms. And then we have just an example. According to Malakhov, Bardanov is the person whose actions must be watched and ... imitated? Is that how it turns out? Otherwise, why and for what purpose was the garden to be fenced off?
An example of Malakhov's act, who is obviously unable to distinguish between black and white, suggests that there is still too much freedom in Russia. Especially for those VGTRK employees who have no idea what honor and conscience are. And for the sake of the rating, ready for anything.
In the United States, yes, in the very States where it is very difficult with freedom of speech, Malakhov would have been thrown out of any TV channel and would not have been accepted anywhere else if he had dared to make such a broadcast, say, about a drug dealer who shot at a policeman.
And we are fine. Who are the SOBR officers in the eyes of Malakhov? Why invite them to the studio, why listen to their opinion? Is it possible to make a rating for the program on this?
No, if the SOBR members knocked on the faces of all the guests and Malakhov - yes, I'm sure the rating would have jumped to the skies.
But for such a plot you have to be a man. Malakhov is not such, because the security forces remained behind the scenes. To avoid and just in case.
Which once again shows the essence of the brawler Malakhov. Essence, I must say, cowardly and dishonest.
Power ... It's time for the authorities to think about this topic. And start to stop the information chaos that the Malakhovs and Sobchaks are arranging. Otherwise, we will go too far. We already had the glorification of the cult of bandits of the nineties in films and television series, but how long is it possible?
How much can you praise bandits and thieves? Maybe it's time to return to a civilized society, where thieves, bandits and maniacs are respected only in prisons by inmates?
Maybe a country claiming the title of "great" will still be able to turn the tide and begin to glorify, as before, those who create, save and teach? How is it done in the rest of the civilized world?
Or will everything in our country remain at the level of a prison for the brain, where frankly negative characters will remain at the forefront?
I would suggest starting the cleanup of the television information space right now and with Malakhov, who has already crossed all the boundaries of decent and decent.
We must start sometime. We seem to live in a great country, where a thief, a bandit and a swindler should be in prison, and not shine on the TV screen with orders and other insignia.
It's time, people of state, it's quite time. Start spending our money wisely and efficiently.