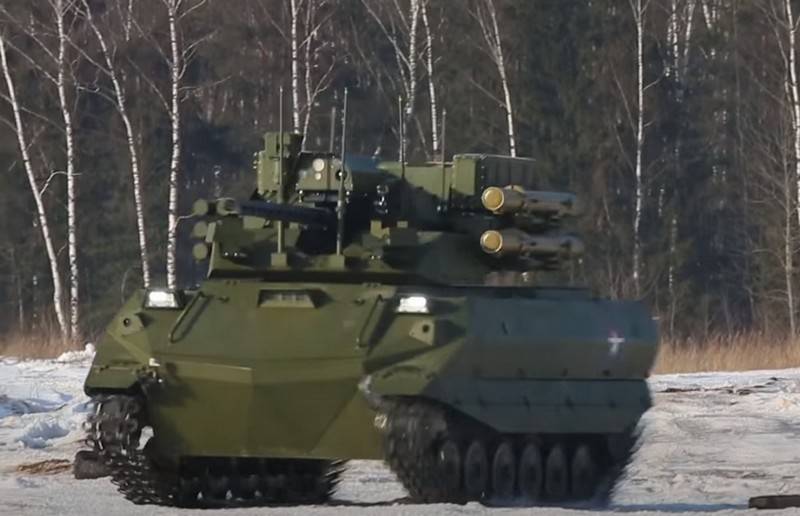 The Ministry of Defense is creating the first unit in the Russian army equipped with shock robotic systems. This was reported by the press service of the military department.
The first experimental subdivision, equipped with Uran-9 complexes, is being created on the basis of one of the research centers of the Ministry of Defense. Initially, it will deal with the development of methods and forms of using such units, then on the basis of the center will begin training personnel for the use of the Uran-9 complexes and others, the delivery of which to the troops has not yet begun.
The Armed Forces of the Russian Federation will create the first unit with strike robots, which will include five Uran-9 robotic systems or 20 combat vehicles
- said the chief of the main headquarters of the Ground Forces Vasily Tonkoshkurov.
Previously, the Uran-9 complexes were used only individually. The Uran-9 complex was adopted by the Russian army in 2016, however, during the experimental combat operation of the complex, deficiencies in control, mobility, firepower, reconnaissance and observation functions were discovered. After the modernization, the complex entered state tests, which ended in 2020.
The Uran-9 complex includes four tracked combat vehicles with remote control, a control point and transport for their delivery. The basic armament of combat vehicles consists of an automatic 30-mm cannon 2A72 and a coaxial 7,62-mm machine gun, anti-tank guided missiles "Attack" and a jet flamethrower "Shmel". Depending on the tasks performed, the complex can be additionally armed with MANPADS.