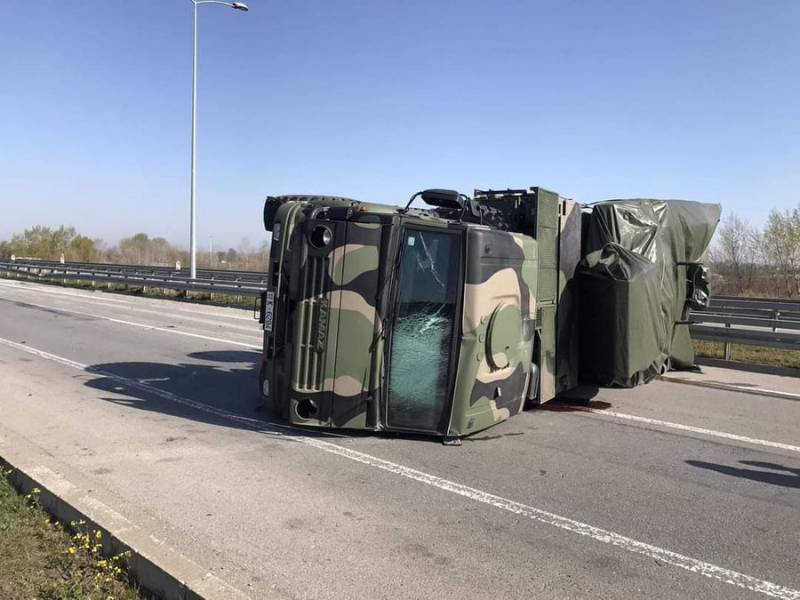 In Serbia, the Russian Pantsir-S1 anti-aircraft missile-gun system (ZRPK), belonging to the Serbian army, has tipped over on its side. Writes about this local edition Mondo.
The accident with the Pantsir-S1 air defense missile system occurred while driving along the bypass road around Belgrade while driving to the Pasulyanske Livade military training ground. For some unknown reason, the complex drove off the road and toppled over on its side. The accident caused traffic to stop and traffic jams. It is reported that three Serbian soldiers were injured as a result of the accident, but there is no complete information on their condition.
It is also noted that after overturning the complex, one anti-aircraft missile fell on the road. This fact led to the fact that initially all the media reported about the accident of a truck carrying "three missiles" for the Pantsir-C1 complex of the Serbian army.
Recall that the Serbian army is armed with 6 Pantsir-S1 air defense missile systems purchased from Russia. The first complexes were delivered by the military transport
aviation
Aerospace Forces of Russia at the airfield in Batainitsa at the beginning of last year.
On April 7, the Ministry of Defense of Serbia announced the conduct of the demonstration exercises of the Pantsir-C1 air defense missile system at one of the training grounds of the military department. The calculations worked out the occupation of the firing line from the movement, bringing to readiness, the work of the calculations in the command vehicle and in combat vehicles, as well as the work of the technical department to troubleshoot the fiber-optic system of the complex. Defense Minister Nebojsa Stefanovic watched the exercise.