A delegation from the US Embassy in Ukraine, led by Defense Attaché Brittany Stewart, visited the Joint Forces Operation area in Donbass on Friday, where they got acquainted with the situation on the contact line. This was reported by the press service of the Ukrainian Ministry of Defense.
The American delegation on the positions of the Armed Forces of Ukraine was personally led by the deputy commander of the JFO, Major General Eduard Moskalev, who also acquainted the US representatives with the operational situation "at the front." It is emphasized that in the course of communication with the "defenders of Ukraine", the Americans became convinced of the falsehood of the "enemy" statements about the difficult situation at the positions of the Armed Forces of Ukraine and the unwillingness of servicemen to carry out tasks in the JFO zone.
In addition, the United States received "convincing evidence" of the presence of "Russian-occupation" troops in the Donbas.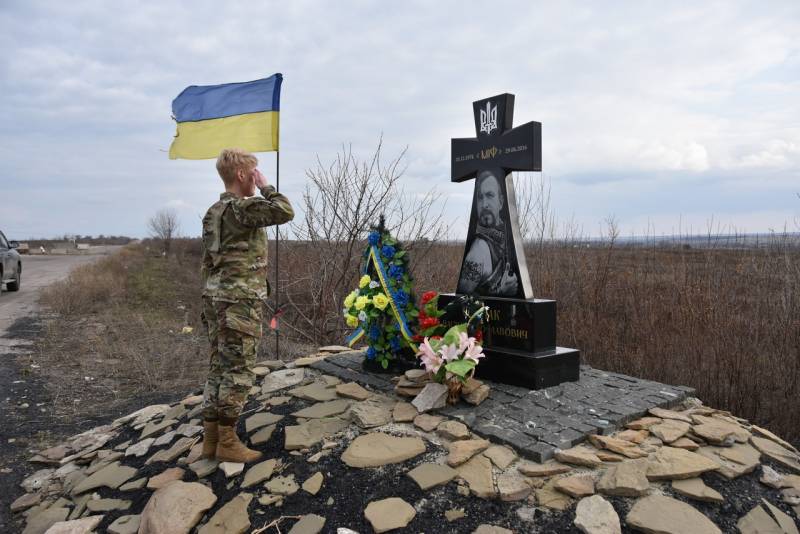 Colonel Brittany Stewart, heading the delegation of the US Embassy's attache for the army and defense, who, by the way, flaunts the military uniform with the chevron of the 72nd Separate Mechanized Brigade of the Armed Forces of Ukraine, which depicts a skull with the inscription "Ukraine or death", said at a briefing following the visit:
The US government is deeply concerned about the situation that is developing around the borders of Ukraine and in every possible way supports the sovereignty and territorial integrity of Ukraine
Note that the US representatives once again expressed concern and promised Ukraine "protection". However, in the event of an escalation of hostilities, neither the United States nor NATO will bring their military into Donbass, since this will mean the beginning of hostilities against Russia, and this is not what Washington and Brussels want.