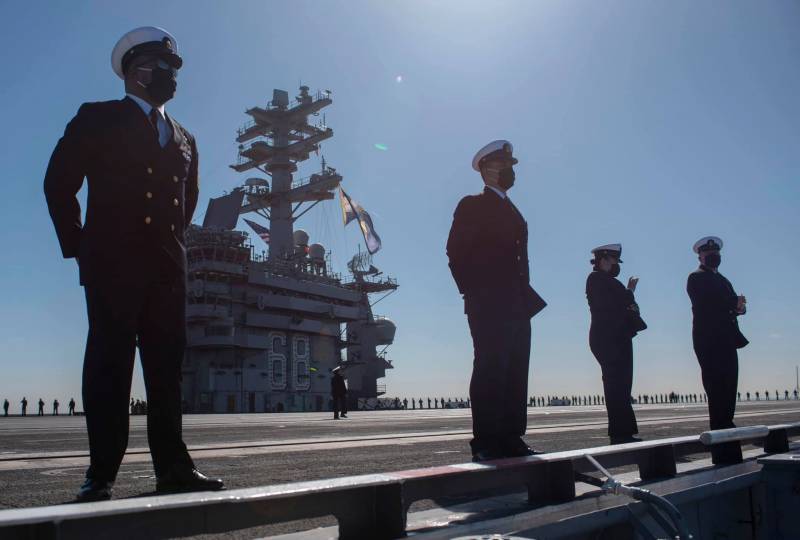 The US Naval Operations Service (CNO) presented a report on how the US Navy is going to "confront China." The main problem, according to the Pentagon, in this context is the increasing number of Chinese warships, including those armed with missiles. The United States is also concerned about Chinese land-based missiles "threatening American military installations in the Indo-Pacific."
The report presented the considered methods of counteraction.
So, the Service of Naval Operations believes that in order to neutralize Chinese missiles, it would be necessary to equip aircraft carriers with combat laser installations of suitable power.
It is noted that the power plants of the aircraft carriers of the US Navy can provide combat lasers with sufficient amounts of energy - "in order to intercept Chinese missiles."
Also, the said department says that it is necessary to implement plans for equipping unmanned surface ships of the US Navy with combat lasers. They, as noted, could be used for combat patrols in order to track "threats emanating from the Chinese Navy."
It should be recalled that some time ago it was planned to arm the American stealth destroyers Zumwalt with combat lasers. Then the idea was expressed to equip these super-expensive warships with hypersonic missiles. None of the options have been implemented yet. So, for equipping with hypersonic
weapons
As noted in the American press, the dimensions of the launcher cells will have to be changed, which means the actual restructuring of several destroyer compartments, each of which already costs the US military budget about $ 4 billion.